Twerking isn't just a sad excuse for a dance move—it can also be extremely dangerous.
Caitlin Heller found this out the hard way when she decided to emulate Miley Cyrus by shaking her butt in various places around her apartment. Just like Miley, Caitlin probably thought that she was hot stuff, but things got a little too hot when she decided to kick things up a notch by performing the dance move upside down in front of a door—Caitli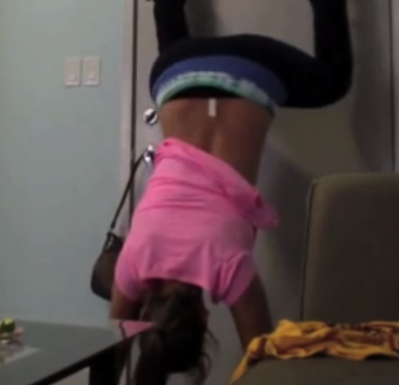 n's pants ended up catching on fire as a result of this bad decision.
At least she didn't have a flammable giant foam finger near her crotch when the opening of the door sent her crashing on top of a table covered with candles. Since Caitlin shared the video on YouTube herself, hopefully this is an indication that her twerk fail didn't cause any serious injuries.
Caitlin Heller explained that she was creating a twerking video for her boyfriend, which would explain the presence of the candles —she was just trying to give her apartment a more romantic ambience. And apparently she read all the nasty comments online about the small size of Miley Cyrus' behind, because it looks like she's wearing three pairs of underwear to give her booty a little more volume in the video. Poor insecure Caitlin didn't have her own Robin Thicke to twerk on, so she had to make do with a wood cabinet.
Sadly, Caitlin is an example of why America is becoming a real-life Idiocracy. Girls now think that shaking their butt is the best way to impress a guy, and they believe that yelling at a fire is the best way to put it out. It's also pretty amazing that the video of her twerk fail already has 4 million views on YouTube—Mike Judge wasn't far off when he predicted that people of the future would be impressed by a show called Ow! My Balls!
You can check out the video below. At least Caitlin keeps her tongue in her mouth.
Photo Source: Twitter