Although the sequester has been shockingly hyped in the mainstream media; the amount of taxpayer money impacted is minuscule in comparison to overall federal spending.
This chart provides a great illustration:
There has been much fear-mongering from President Obama and friends.
If the sequester was such horrible legislation, why would Obama propose it, sign it into law and worse, threaten to veto any GOP efforts to make it more targeted? Republicans "offered several rounds of offsetting cuts, all of which have been dismissed by Democrats."
Obama said,
"My message to them is simple:Â No. I will veto any effort to get rid of those automatic spending cuts to domestic and defense spending. There will be no easy off ramps on this one."
As noted by Glenn Kessler of the Washington Post, The administration has a "pattern of overstating the potential impact of the sequester."
For example, and this is one of many, President Obama actually said that the sequester could force prosecutors to 'let criminals go'. Criminals roaming the streets terrorizing children...and he signed that into law???
Irresponsible fear tactics.
Some other apocalyptic predictions:
Deputy Defense Secretary Ash Carter said that these savings "would have to come out of the pockets of those preparing to defend America from its next enemy."
More doom and gloom from Secretary of Defense Leon Panetta, who moaned, "...there is no mistaking that the rigid nature of the cuts forced upon this department, and their scale, will result in a serious erosion of readiness across the force," and
President Obama chimed in with more fear-mongering. He lamented, "it will jeopardize our military readiness; it will eviscerate job creating investments in education and energy and medical research."
President Obama, news conference, March 1, 2013
"Starting tomorrow everybody here, all the folks who are cleaning the floors at the Capitol. Now that Congress has left, somebody's going to be vacuuming and cleaning those floors and throwing out the garbage. They're going to have less pay. The janitors, the security guards, they just got a pay cut, and they've got to figure out how to manage that. That's real."
After the speech, some damage control........
More Sequester Bad Behavior:
Senate Majority Leader Harry Reid repeated a whopper that has already been debunked in light of the sequester. Speaking to reporters Thursday, he stated (again) that "We've cut $2.6 trillion," despite the fact that the claim was found to be "wrong" in early February. Not only was the amount debunked by FactCheck.org, but theso-called "cuts" have not yet taken place and defense programs are indeed included. By the way, 

NOBODY reported this

.
Maxine Waters, ranking Democrat on the House Financial Services Committee, said that the sequester could result in "over 170 million jobs" lost. That would be a disaster of epic proportions, as there are only 134 million people working in the United States out of a population of about 315 million people. Her deputy communications director, Eric Orner called the remarks from Waters a "slip of the tongue." She meant that 170 thousand people would lose their jobs. It is unclear where she got (either) figure.
If the ongoing exaggeration of the impact of the sequester is not bad enough, ask yourself, President Obama and soon-to-be Treasury Secretary Jack Lew both blatantly lied and said the sequester proposal originated in Congress. Why did they do that?
According to a Wall Street Journal article, aptly titled, "President Armageddon," the author notes that President Obama "just whacked the economy with a roughly $160 billion tax increase in 2013 that he says will do no harm, but he wants us to believe that $85 billion in spending cuts will trigger a recession."
Why Doesn't the Sequester Tackle Government Waste?
 
According to a report by Sen. Tom Coburn's office released in November, of the $600 billion annual Pentagon budget:
"Billions of Defense dollars are being spent on programs and missions with little or nothing to do with national security, many of which are already being performed by other government agencies or are completely unnecessary."
Some of the head-scratching examples include:
While President Obama is lamenting over criminals roaming the streets due to spending cuts; the federal government is also "soliciting applicants for numerous lower priority jobs," as reported by Washington Business Journal. In other words, there has been no freeze in hiring.
In fact, the federal government is hiring like crazy! There are over 1,500 job postings for the Department of Defense alone.
Examples from Government Accountability Office (GAO)
reports of wasteful duplication include 342 economic development programs; 130 programs serving the disabled; 130 programs serving at-risk youth; 90 early childhood development programs; 75 programs funding international education, cultural, and training exchange activities; and 72 safe water programs.
The federal government made at least $72 billion in improper payments in 2008.
Washington spends $92 billion on corporate welfare (excluding TARP) versus $71 billion on homeland security.
Government auditors spent the past five years examining all federal programs and found that 22 percent of them — costing taxpayers a total of $123 billion 

annually

— fail to show any positive impact on the populations they serve.
95 Pentagon weapons systems suffered from a combined $295 billion in cost overruns.
Audits showed $34 billion worth of Department of Homeland Security contracts contained significant waste, fraud, and abuse.
Some Other Examples of Waste:
As Senator Tom Coburn's (R–OK) Wastebook 2012 reveals, some projects that have received NIH funding would not pass the laugh test, let alone prove to be vital.
For example, the NIH spent:
$295,364 determining that male fruit flies are more attracted to younger female fruit flies than older female fruit flies;

$350,000

researching how golfers perform better when using their imagination;
$548,731 acquiring evidence that heavy drinking in a person's thirties can lead to feelings of immaturity, while in their twenties it would not; and
$666,905 researching how fictional characters in books, movies, and television shows can help a person feel better about life.
The non-partisan Congressional Budget Office (CBO) reported on ways to find savings at the NIH in its biennial Budget Options report released in March 2011. Capping the growth of the agency's budget at 1 percent per year, for example, could save $10.3 billion between 2013 and 2021.
Transportation Security Administration
The TSA (which has just unionized) has wasted millions of taxpayer dollars, according to a joint report by the House Transportation and Infrastructure Committee and the Committee on Oversight and Government Reform.
The report showed that:
The TSA has a warehouse in Dallas, Texas, where 5,700 pieces of unused security equipment sit in storage. The dormant equipment is worth 

$184 million

.
This equipment storage cost taxpayers another $23 million in depreciation, because nearly all of the 472 carry-on baggage screening machines in the warehouse have been sitting there unused for over nine months.
The agency spends another $3.5 million every year just to lease and manage this warehouse.
The Transportation and Infrastructure Committee found disturbing and frankly, astonishing, examples of waste and inefficiency, and declared that the TSA:
"was intended to be a lean security agency with the flexibility to quickly respond and adapt to potential threats of terrorism. Instead TSA has mushroomed into a massive, inflexible, backward-looking bureaucracy of more than 65,000. Over its first ten years of existence, the agency and its numerous failures have cost taxpayers $57 billion."
The damning report also found that the Administration "has become too focused on maintaining and growing its own bureaucracy".
How about Head Start?
One costly program—Head Start— is not working. Taxpayers have spent more than $180 billion on this program since it began in 1965; it currently costs $8 billion a year. According to a recent evaluation by the Department of Health and Human Services (HHS), taxpayers' return on that "investment" is nothing to applaud. This and previous studies found that Head Start:
Had "little to no effect on cognitive, social-emotional, health, or parenting outcomes" for participating children that reach the third grade;
Failed to have an effect on 69 out of 71 socio-emotional, health, and parenting outcomes for participating four-year-olds; and
Failed to have an effect on 66 of the 71 socio-emotional, health, and parenting outcomes for participating three-year-olds.
Fraud and abuse also taint the program. The Government Accountability Office (GAO) conducted undercover tests of the program's registration process; in eight of the 15 tests, the GAO found staff that misrepresented information, such as family income, in order to enroll students.
Additionally,
The House Education and Workforce Committee reported on a laundry list of duplicative or ineffective education programs that could be cut, such as:
Native Hawaiian Education Program, $34 million annually;
Alaska Native Education Equity Program, $33 million annually;
Foreign Language Assistance Program, $26.9 million annually; and
High School Graduation Initiative (Dropout Prevention) Program, $50 million annually.
These are only four of the ineffective, wasteful, or redundant initiatives that could be cut; as Burke notes, there are 150 federal education programs. In fiscal year 2011, for example, the federal government spent $25 billion on over 80 grant programs that actively burdened school-level management with costly, time-consuming application and reporting requirements.
In addition, onerous guidelines and regulations created by No Child Left Behind "increased state and local education agencies' annual paperwork burden by6.7 million hours, at a cost of $141 million" in 2006 according to some estimates.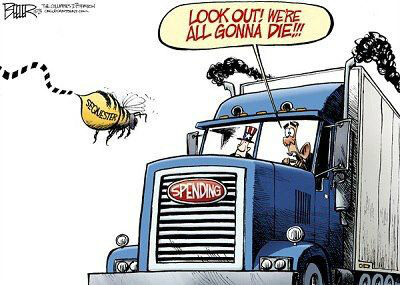 Food Stamp Fraud
In 2012, the "federal government will spend more than$668 billion on at least 126 different programs to fight poverty. And that does not even begin to count welfare spending by state and local governments, which adds $284 billion to that figure...That amounts to $20,610 for every poor person in America, or $61,830 per poor family of three." Yet, "All this spending has not bought an appreciable reduction in poverty." Clearly, the "war on poverty" needs to be re-evaluated. If the goal for these programs is to reduce poverty, they are an abject failure. Not to mention the fraud and abuse.
Anyone can imagine that there is some fraud with welfare programs, but how much, exactly? All one needs to do is a simple search online to find story after story, week after week of welfare fraud. The actual statistics on Food Stamp fraud are elusive.
WHY?
Florida alone "lost more than $100 million in fiscal year 2010-2011 because of over payment of benefits." How much is lost throughout the country?
Watch one local news investigation here:
There is no doubt that there are plenty of places the government can cut. This list is not exhaustive, but certainly shows that the sequester should not be a game-changer. If fraud, abuse and waste were addressed, not one job needs to be lost.
Although sequestration has been hyped as the Armageddon, Judge Andrew Napolitano explains that the cuts are "political theater," and nobody should be fired or furloughed.
Image Source:Â Washington Post
President Obama can do "much more to diffuse" the impact of the sequester, the Judge explained on the Fox Business Network.
The president has many options, including "transfer authority," which would allow the cuts to be shifted between departments. He clarified that the sequester is not actually "spending cuts," rather they are a "reduction in the amount of increase." The fear-mongering is clearly a political tool and a bonus opportunity to point fingers at Congress.
Napolitano continued to say that the federal government:
"will spend more money even with the sequester in 2013 than it spent without them in 2012. We are not talking about the president firing or furloughing soldiers or TSA workers or FAA Air Traffic controllers, we are talking about him hiring fewer of them."
Watch the interview here: