This morning in South Africa the "Blade Runner" sports hero Oscar Pistorius spoke for the first time to the public about why he shot and killed his girlfriend Reeva Steenkamp in his South African home on Valentine's Day.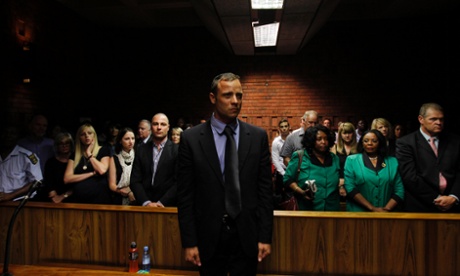 The sports figure spoke using a written statement read to the court by his attorney Barry Roux, according to the Guardian, but he should have read it himself, since the reading of the statement was interrupted so much by his sobbing that the judge had to call a recess just to allow him to compose himself. But despite the appearance of a remorseful boyfriend, Oscar Pistorius appears to be a man not making much sense with the story he expects the judge to believe in his case.
For example, his statement said that he and Reeva were in the bed together when he decided to get up and close a sliding door and get a fan. Yet later in his statement he alleges through his attorney that he did not have on his prosthetic legs on when he went to the locked bathroom door to shoot at an alleged intruder hiding behind it. Does it matter if he had his legs on or not? Isn't this the guy who appears to be able to overcome physical limitations with or without a prosthetic?
The disabled sports star is also asking the judge to believe that when he allegedly heard an intruder that he immediately became fearful enough to open fire without even making sure that his girlfriend wasn't the noise that he heard in the bathroom. Who shoots first and makes sure loved ones are safe afterward? Few, if anyone, right?
The other poor excuse being given in the Pistorius bail hearing on Tuesday for the shooting death of Reeva Steenkamp is that Pistorius wants the judge to think him shooting at an intruder behind a locked bathroom door was a logical thing for a disabled person to do instead of grabbing the phone and dialing the police for help--or going and hiding behind a locked door himself.
No wonder the judge is saying he agrees at this point that he can't rule out that the suspect may have planned this crime to some extent. And that he needs more information to reduce the charge from a "Schedule Six" charge to a "Schedule Five" charge. He's going to need a whole lot more information before he can do that.
Photo credit: Siphiwe Sibeko/Reuters via The Guardian