Hacked data could reveal government secrets, including the identities of informants and targets of surveillance.
Infowars.com
January 26, 2013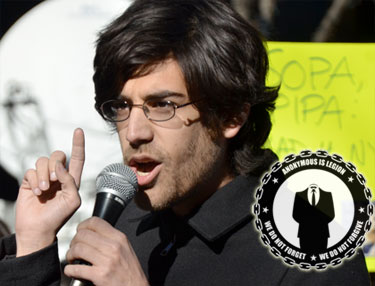 The hacker collective 'Anonymous' took down a government website for the U.S. Sentencing Commission, USSC.gov, late Friday night, citing that a 'line was crossed' with the death of Reddit founder and prominent SOPA opponent Aaron Swartz.
ZD Net covers the details of the site attack:
By 3am PST ussc.gov was down (it has since been dropped from the DNS), yet as of this writing the IP address (66.153.19.162) still returns the defaced site's contents.

It appears that via the U.S. government website, Anonymous had distributed encrypted government files and left a statement on the website that de-encryption keys would be publicly released (thus releasing the as-yet unkonwn information held on the stolen files) if the U.S. government did not comply with Anonymous' ultimatum demands for legal reform.
Dubbed "Operation Last Resort," Anonymous targeted the sentencing entity to draw attention to the harsh "justice" dealt to Swartz by the feds for systematically downloading academic papers. Friends and family blame prosecutors for 'bullying' Swartz and driving him to suicide, while others question whether the activist was silenced.
A message posted on the hacked website read, in part, "We have seen the erosion of due process, the dilution of constitutional rights, the usurpation of the rightful authority of courts by the "discretion" or prosecutors… We have seen how the law is wielded less and less to uphold justice, and more and more to exercise control, authority and power in the interests of oppression or personal gain."
The hacked files taken from the site may yield significant data. CBS News reports, "The hackers say they've infiltrated several government computer systems and copied secret information that they now threaten to make public." The files are reportedly available for download and being circulated, with an encryption key, to fellow hackers.
Warhead – U S – D O J – L E A – 2013 . A E E 256 is primed and armed. It has been quietly distributed to numerous mirrors over the last few days and is available for......................  read more @   http://www.infowars.com/anonymous-hacks-us-sentencing-website-in-retaliation-for-aaron-swartz-death/
 
This should get interesting, especially if it shows information that will blow the minds of Americans. I think it would be excellent if there would be information in there proving that 911 was an inside job.  I think if that could happen it would surely open the minds to many Americans showing just how cruel this government is.
But at the same time, this could be very troublesome to our country if it shows anything that might have duped any other countries in a underhanded way.
At the same token it will open the public to just what our white house crooks really do behind closed doors.
Julian A. is a hero he puts proven facts out there with the information he put out there same with Bradley manning.