Three days after Melissa Ketunuti's killer strangled her to death in the basement of her Philadelphia home he has given a statement to police detailing how he met her and came to take her life.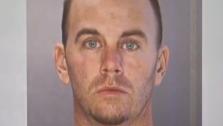 Jason Smith, 36, told police detectives with the special task force from the Philadelphia homicide unit that he worked as a subcontractor for an exterminating company that hired him to respond to Ketuniti's rodent problem this Monday. The defendant in the CHOP doctor's murder case says that when he and the victim were in the basement of her home that they got into a verbal altercation, which led him to hit her, knocking her to the ground.
He immediately got on top of her and began strangling her, he said. He later went on to tie her hands and feet behind her back before dousing her with flammable material and setting her ablaze. Sadly, Melissa Ketunuti's killer used rope from her own home to tie her up allegedly after strangling her to death. Setting her on fire was what police term a precautionary measure, meant to help elude capture due to DNA evidence left on a body.
Smith has no criminal history for violence, but does have prior traffic violations on his record with police. He was residing with his girlfriend and her mother outside Center City at the time of the crime, at Crescent Lane in Levitttown, according to 6abc.com, which was the news agency who first broke the news on the suspect's arrest and statement.
Melissa Ketuniti's killer was arrested at his home and charged with one count each of arson, abuse of a corpse, murder and causing a catastrophe per Philadelphia Police Dept. Capt. Clark, who praises his homicide unit for doing an outstanding job of apprehending the murderer of a children's doctor so quickly.
Jason Smith mugshot photo credit: Philadelphia Police via ABC News