Convicted killer Christian Oberender reportedly tried to take advantage of a loophole in Minnesota state law that made it easy for him to obtain firearms -- even though he was not legally allowed to do so. This is a disturbing revelation that needs to be known now more than ever in a time that mental health, violence and guns are being debated as correlated elements. It's fortunate to report, however, that Oberender no longer has these guns and was arrested in the beginning of the month regarding his arsenal of illegal legally obtained weapons.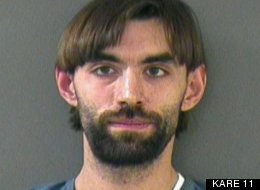 Christian Oberender reportedly murdered his mother with five shots from a shotgun in 1995, leading him to not only be a convicted killer but registered as dangerously mentally ill. First of all, it's amazing that he's free, much less free to purchase an "arsenal of firearms." So it seems that there are multiple failures in the system to report in this case.
Because the state of Minnesota didn't have a fingerprint card from his 1995 conviction, the safeguards to keep him from legally purchasing a firearm weren't in place. He, by no means, is legally allowed to own any firearm, but because of the burp in the system he was able to pass a background check to get the permit for him to continue buying weapons.
It's fortunate that this man was finally caught and arrested because there is truly no telling what he had planned with the weapons he was buying. He is reported to have had around 13 guns including semi-automatic rifles, an AK47, assorted shotguns, a Desert Eagle and a Tommy Gun among others. It's absolutely disturbing to consider the possibilities behind why he would possibly want so many guns -- especially knowing that he gunned down his own mother, and knowing that he is documented as dangerously mentally ill.
This shouldn't be a partisan debate. It's more than clear that there are multiple flaws in the system that legislates laws while ignoring the mental health care needs of its citizens. Christian Oberender shouldn't be out walking the same streets as those who could become his next victims, but that same glitchy system made sure he was free to legally (illegally) purchase guns for who-knows-what.
Photo: Huffington Post
Chelsea Hoffman is a candidly opinionated crime analyst with a lifelong interest in criminology and activism. She also owns 'Girl Nerdology' and is the author of several fiction stories. Follow her on Twitter @TheRealChelseaH or email her privately through Chelsea Hoffman: Case to Case.