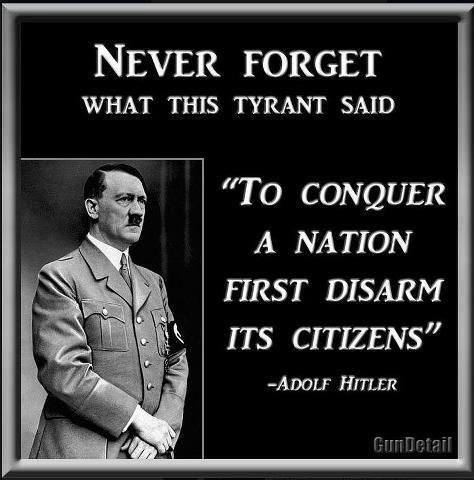 They Trusted One Man With The Health Care Of The Entire Nation…And Now, They Are Willing To Let Him Spit On The Second Amendment…
The healthcare plan was passed by congress without having been read by congress. President Obama signed the healthcare plan and it was done without him having read the bill. And because of that blind loyalty to a single man, we have the most massive tax increase in the history of this nation that is presented as a healthcare plan. Next year, (2014) the plan will be in full force and those who praised the plan and the president will see it for what it is, and they will not like what is inevitable based upon the very words of that healthcare plan. And yet, those who have not read the bill are vilifying those of us who have taken it upon ourselves to read the bill in its entirety. The bill was passed by congress and signed by the president while the majority of the nation was opposed to it.
And now, we have the gun control issue before us, and just as with the healthcare plan, the American people will be deceived with the presentation of what is to come. Anytime that the government states that they are taking actions that are in the best interest of the people, or that it is for our security, you can bet that they will take something from us in order for them to do what they have in mind that relates to that issue.
The creation of new gun laws is an absolute joke, and we are about to see just how far that our government can take us in the direction of controlling yet another part of our lives. Those who will not obey the existing laws will not obey additional laws. The mentality that allows anyone to believe differently puzzles the hell out of me, as it literally defies any logic related to that part of our society that has actually created the problems related to the purchase, safety, and use of guns. You can argue this fact all you wish, but it remains a fact. The thugs of our society do not, nor will they respect any new gun laws that may become a reality.
With the action that President Obama wishes to take as he is supported 100% by his base, regardless as to what he may offer as a solution, just as with the healthcare plan, much will happen that will result in more control of the people of this nation. The fine print with the coming legislation will present a confused presentation of what will actually come with that legislation. If the President of the United States does not truly understand the very meaning of the "Second Amendment" he is simply over his head with his current position. The most concerning part of his quest is based on the fact that President Obama knows precisely what the amendment represents, but is responding to dissolve the power of that amendment. The second amendment has nothing to do with having guns for the purpose of hunting. The second amendment has nothing to do with using guns to protect us from home intruders who wish to take our personal possessions. The second amendment is a means for the people of this nation to protect ourselves from a tyrannical government, such as the very ones who are trying to disarm the American people today.
If many lazy Americans would get off of their collective asses and read the Patriot Act, The Military Commission Act of 2006, The National Defense Authority Act, and various Executive Orders, they would see that legislation is in place that allows the government to totally take over all aspects of our lives at any given time. They cannot do so while the American people are able to defend themselves, so it is just a matter of time before they come for all of our guns. The evil ones are trying to take our nation from us, and the ignorant are helping them to do so. Many do not fear what these examples of legislation represent because they are ignorant as to the actual content of the legislation. And still, they support that legislation and continue this unconditional loyalty to a government that is removing their rights and freedoms because of that unconditional loyalty.
If you have full faith in the government and believe they will not betray the American citizens, you should agree with this list...Just as many refused to read the healthcare bill, they do not see the fine print, or the many deceptions and intrusions into our lives...But they will next year. The same will apply to this list of gun control components. The final elaborated version of the list will be massive and will stray far from the simple presentation of these 23 factors. I don't think people realize what they are asking for, or just what they are pre-approving...But, like the healthcare plan, they will soon enough...
What follows is the list of executive orders President Obama referenced minutes ago during a press conference addressing measures to reduce gun violence in the United States:
The bold print represents the "executive actions" proposed by the president, and the additional information in regular print is my opinion as to what each may actually mean or may be expanded to include. This is control at its best.

1. Issue a Presidential Memorandum to require federal agencies to make relevant data available to the federal background check system.

"RELEVANT DATA?" Just wait to see what that data will represent...You will have no secrets...

What is their definition of relevant data, and how far are you willing to let the government dig into your life?

2. Address unnecessary legal barriers, particularly relating to the Health Insurance Portability and Accountability Act, that may prevent states from making information available to the background check system.

This is clearly suggesting that the patient/doctor confidentiality agreement be lifted from existence. Another right that will be forfeited.

3. Improve incentives for states to share information with the background check system.

Refer to #2...That same information will be shared from state to state. Your medical history will be known nationwide.

4. Direct the Attorney General to review categories of individuals prohibited from having a gun to make sure dangerous people are not slipping through the cracks.

By review categories, it will mean to evaluate and change categories. This will result in telling who the government simply determines should have a gun. This number will be controlled by the government.

5. Propose rulemaking to give law enforcement the ability to run a full background check on an individual before returning a seized gun.

If you lose a gun due to a seizure, you will never get it back, even if improperly seized.

6. Publish a letter from ATF to federally licensed gun dealers providing guidance on how to run background checks for private sellers.

This seems ok, depending upon what they may include as the actual factors with the guidance.

7. Launch a national safe and responsible gun ownership campaign.

This is unnecessary spending and involvement by the government...They should simply make the individual meet certain requirements before ownership of the gun is final. The government should not be directly involved in this process.

8. Review safety standards for gunlocks and gun safes (Consumer Product Safety Commission).

This is acceptable, although it depends upon the individual to take responsibility for gun safety and storage.

9. Issue a Presidential Memorandum to require federal law enforcement to trace guns recovered in criminal investigations.

If this had been done all along, many of the people behind the crimes would have lost their guns already, and the repeat offenders could have been given proper attention.

10. Release a DOJ report analyzing information on lost and stolen guns and make it widely available to law enforcement.

Why has this not been normal policy before now?

11. Nominate an ATF director.

Just wait to see how much power this guy will have...

12. Provide law enforcement, first responders, and school officials with proper training for active shooter situations.

This should have already been done.

13. Maximize enforcement efforts to prevent gun violence and prosecute gun crime.

This is a good concept, in general, but my guess is that the words, "enforcement efforts" will be greatly broadened and will be intrusive.

14. Issue a Presidential Memorandum directing the Centers for Disease Control to research the causes and prevention of gun violence.

This will result with our government dictating who will be able to own a gun based on their personal standards, not by our rights.

15. Direct the Attorney General to issue a report on the availability and most effective use of new gun safety technologies and challenge the private sector to develop innovative technologies.

This is merely a suggestion and will be based upon what cannot be enforced. You cannot dictate cooperation. It should happen, but cannot be guaranteed. This is a feel-good addition to the issue.

16. Clarify that the Affordable Care Act does not prohibit doctors asking their patients about guns in their homes.

This is pure bull-shit...I will tell the doctor to mind his own damned business.

17. Release a letter to health care providers clarifying that no federal law prohibits them from reporting threats of violence to law enforcement authorities.

Those within the healthcare industry will sudden have the power to simply suggest someone as being a threat and they will lose their right to gun ownership.

18. Provide incentives for schools to hire school resource officers.

They should save their money and just put a single actual police officer in each school and make it clear to all that an officer is present at all times during school hours. This would solve 99% of all school related incidents.

19. Develop model emergency response plans for schools, houses of worship and institutions of higher education.

This should have already been done.


20. Release a letter to state health officials clarifying the scope of mental health services that Medicaid plans must cover.

This is creative sneakiness...This is going to guarantee that anyone with Medicaid is going to be evaluated automatically and again, the government will have the ability to determine who can or cannot have a gun. This is a major control issue and the government will certainly gain control with this tool.

21. Finalize regulations clarifying essential health benefits and parity requirements within ACA exchanges.

People, you have to understand that the government just took over the healthcare industry. They are using the control they now have with the healthcare industry to connect it to the gun control issue. The fine print that will be involved with the connection between healthcare and gun ownership is going to be very intrusive and controlling.

22. Commit to finalizing mental health parity regulations.

That finalizing will represent major control by our government and once again, the fine print with the final legislation will be very intrusive.

23. Launch a national dialogue led by Secretaries Sebelius and Duncan on mental health.
This will result in mental analysis that will deem almost anyone as a threat to own a firearm, or at least direct it to those who are a concern to the government. The language with such a dialogue would be very cloudy and will certainly have room for fitting the results to control the outcome.
Those who are law-abiding citizens will see many changes, many limitations, and will face many intrusions. Those who have no respect for past laws will rarely be impacted by anything that is represented in the above 23 executive actions, and even the government knows it. The violence related to gun ownership by those who will not obey the laws will be used to control the gun owners who do obey the laws. Control is the actual goal with what is soon to come.
Vic Damico 2013