Norv Turner doesn't inspire much confidence as a head coaching choice lately but a smart team would take a serious look at his history as a coordinator. Could the Chicago Bears do that favor for quarterback Jay Cutler?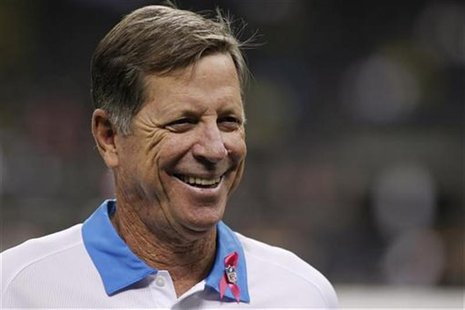 San Diego Chargers failure doesn't discount expertise of Turner
Norv Turner evokes little else but heartbreak to San Diego Chargers fans. After flirting with the Super Bowl in 2007 his teams have met with late season collapses either in the playoffs or just before. It's a characteristic Turner hasn't shaken in his head coaching history and is the very reason the Chargers are all but certain to fire him for. He hasn't won enough meaningful games and his team has only gotten worse since he took over. That said, it should not scare other cities away from giving him a serious look. While head coach might not sit in the cards for him, Turner has wonderful history as an offensive coordinator dating back to his days in USC. His offense led the way to a Rose Bowl title in 1984. His next stint in that spot came with the Dallas Cowboys from 1991 to 1993 where his offenses never ranked lower than 9th and won two Super Bowls. His 2001 Chargers team scored fewer than 20 points just twice all season. Ricky Williams became a breakout star during Turner's time in Miami. However, one overlooked aspect is his ability with quarterbacks. Sean Salisbury took his time with Turner at USC and became a Canadian League champion. Troy Aikman reached the Hall of Fame after their union in Dallas. Turner helped Doug Flutie top 3,000 yards passing on a bad Chargers team while also instilling some knowledge in a young quarterback named Drew Brees. No one should also forget Philip Rivers reached four Pro Bowls with Turner in San Diego.
Lovie Smith must consult Phil Emery about a new offensive coordinator
So the big debate for Chicago doesn't rest with qualifications but whether or not the team should bring in its fourth offensive coordinator since 2009. Quarterback Jay Cutler already said that despite the struggles of the Bears offense the constant changes won't help anything. Coaching from coordinator Mike Tice hasn't impressed anybody, but local media is quick to point out that even the best coaches can't do much without talents. Chicago still has one of the worst offensive lines in football, no game changers at tight end and lacks a second option at wide receiver behind Brandon Marshall. Part of the head coaching job is getting the right to pick one's own coordinators. The problem is Smith isn't good at it. No offense during his time with the Bears has ranked higher than 15th. New GM Phil Emery came in during the offseason and made it clear his first order of business was bringing the offense up to par. If Smith wants to save his job he better consult with Emery very carefully on who they bring in next, if they bring someone in at all. Turner won't bring out celebrations from Chicago fans but his history speaks for itself. Every time he's had talent at quarterback his offenses do well. Cutler isn't too different from Rivers: headstrong, vocal, and fearless with his throws. With some fine tuning from Turner and help on the offensive line a turnaround isn't impossible.
Jay Cutler may not like change anymore but its clear the Chicago Bears can't let continuity fool them into thinking Mike Tice is the answer for offensive coordinator. Lovie Smith has one bullet left. Norv Turner is as good a shot as he'll find.
Photo Credit - WHBL