During the last 3 debates, Mitt Romney has been touting his past experience as the Governor of Massachusetts with comments like, "I had to have a working relationship with the Democrats." Well, Massachusetts lawmakers on BOTH sides of the aisle don't see it that way. A CNN expose done this past June (surprised it didn't get more play & suspect foul play) reported that Romney carried out his agenda by cutting programs and raising fees to balance the budget, and loaded his staff with outsiders, albeit talented, but which hints at the idea Romney, himself, was inadequate at governing, or at the very least, didn't want any inside help, and had every intention of doing things his way.
Speaking of his way, Romney cordoned off the West Wing of the MA Statehouse, and commissioned 1 of the elevators for his own use, something that had never been done before. Some notable quotes about his CEO style:
He was all business, he was all about policy.
When Romney came in, he treated government like the only thing he knew, which was big business.
Health Care...give him an A. The economy, as job creator...give him a C-.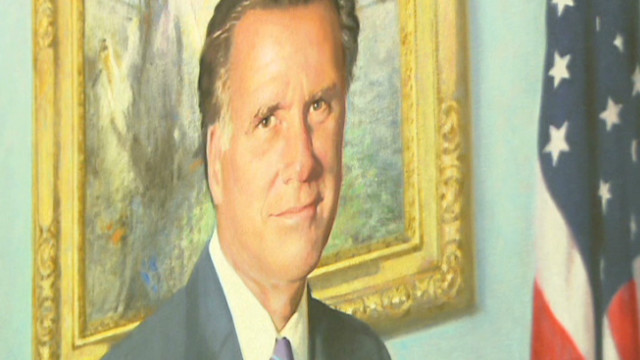 Romney's portrait as it hangs in the MA Statehouse
 
As for Romney's Bi-partisan claims, as he stated in the 2nd debate, "We haven't had the leadership in Washington to work on a bipartisan basis. I was able to do that in my state."Well, MA lawmakers, both past and present, disagree here, too:
Romney clearly did not relish having to work with a Legislature that was 85 percent Democratic. He pushed hard during his first two years as governor to boost the number of Republicans on Beacon Hill. But that effort was a failure; Republicans ended up losing seats in the midterm elections…. Apart from health care, Romney defined success not with big-picture legislative accomplishments but with confrontation. In a 2008 campaign ad, Romney actually bragged about taking on his Legislature: "I like vetoes; I vetoed hundreds of spending appropriations as governor," he said.
Romney issued some 800 vetoes, and the Legislature overrode nearly all of them, sometimes unanimously.
Hmm, 800 friggin vetoes, now what does that tell ya??? It speaks volumes of how well Romney didn't work on a bi-partisan level, and also how he lied his butt off. The fact that most of his vetoes were overridden speaks volumes about just how BLUE a state we are.
Romney seems to have memory loss when it comes to how well he managed the budget:
According to data from the U.S. Census Bureau and the Bureau of Economic Analysis (compiled by Connecticut's chief analyst in 2009), Massachusetts had $10,504 in per capita bond debt in 2007, the highest total in the nation.
As this post continues to be a work in progress, and will continue as such until Election Day, a preview of what's next...meanwhile, check out the links below:
 
I would love to hear his explanation on why he ordered the massive shredding of documents before he left as Massachusetts governor.
Jodi Hilton for The New York Times
By MICHAEL WINES Published: October 5, 2012
 
Romney remembered as CEO governor - CNN.com
Mitt Romney's Claim of Bipartisanship as MA Governor
Romney's False Claims of Bipartisanship in Massachusetts
Mitt Romney's CEO Style Rankled Massachusetts Lawmakers

Under Romney, Massachusetts Had Highest Per Capita Debt