A bad offensive line block largely ruined what could have become a Super Bowl season for the Houston Texans last year. Now that their depth took another hit in 2012, could they contact the Chicago Bears about swing tackle Chris Williams?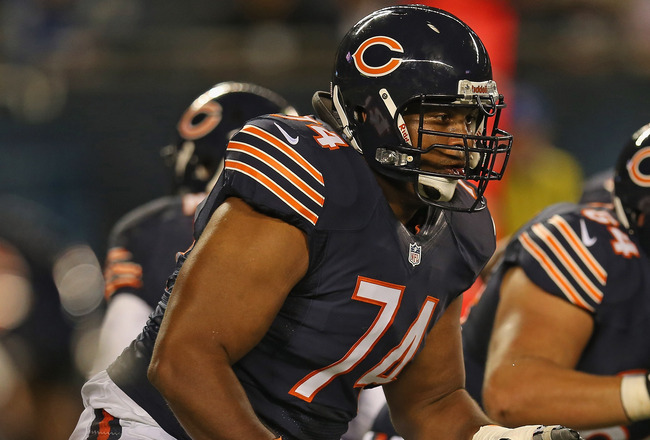 Loss of Rashad Butler deals another blow to Texans tackles
Duane Brown is the best and most important offensive lineman on the Texans roster because he is the left tackle. He is healthy and that is what counts but the situation at right tackle has gotten worse since the off-season. Houston already lost veteran starter Eric Winston to Kansas City in free agency. With him gone the team had high hopes young Rashad Butler would take his place despite an elbow injury that ended his season early last year. Sadly that won't happen. Butler tore his triceps in the preseason finale against the Minnesota Vikings and is lost for the year. It doesn't affect the Texans starting lineup since Butler lost the battle for right tackle to Derek Newton but it is a huge blow to the depth chart. The Texans have a good offense but it all starts with the offensive line. One bad injury can throw a wrench in everything, leaving some to wonder if the team should or should not go out to find some help.
Williams still a veteran NFL tackle despite losing job to J'Marcus Webb
Free agency is always probable but doesn't offer much in the way of talent. The Chicago Bears however have an unusual situation on their offensive line. Chris Williams hasn't had the best luck playing tackle in the NFL but unlike a lot of veterans, he has experience playing on the right and left sides. He also played very well in 2011 at left guard. His versatility is what many teams want in a lineman and is why he has the job of swing tackle in the Bears lineup. His failure to beat out teammate J'Marcus Webb for the left tackle might sound like a death knell since Webb got rated among the worst starting tackles in the league last season but Williams still has great value as a reserve. Some reports hinted Chicago might consider trading him for help elsewhere on their roster. Houston has a great track record of developing linemen and Williams was a first-round pick who is only 27-years old. His addition will give the Texans great flexibility depending on where an injury happens on the line this season.
Losing Rashad Butler won't derail the Houston Texans but it can if injuries become a problem for the starters. Chris Williams couldn't beat J'Marcus Webb on the Chicago Bears but is youth and versatility could solve any such concerns.