Tropical Storm Isaac is bearing down on the Gulf Coast, and is heavily projected to become a hurricane in four states (Isaac poses serious threat to U.S. Gulf Coast). Florida, Louisiana, Alabama & Mississippi have all declared states of emergency, hurricane warnings, and evacuation advisories.
The Republican National Convention was scheduled to start today, and Isaac's increasing strength forced the GOP to make several changes:
~Most all RNC events cancelled for today
~Speaker speeches have been shortened
~Bobby Jyndal(R-LA) has pulled out of the Convention
~Donald Trump cancelled plans to attend
 
Some are calling it deja vu, as Hurricane Gustav threatened the GOP Convention 4 years ago in Minneapolis. If I was a very religious person, I might say that these mother-nature events are a sign from God that the Republican agenda/policies are greatly displeasing the man upstairs. But I'm not~I will say that the Pubs should think carefully about where they hold their next Convention. I know Boston is not Pub territory, but neither is Tampa~the Mayor & the majority of its city council are Dems. Hmmm, how 'bout Alaska???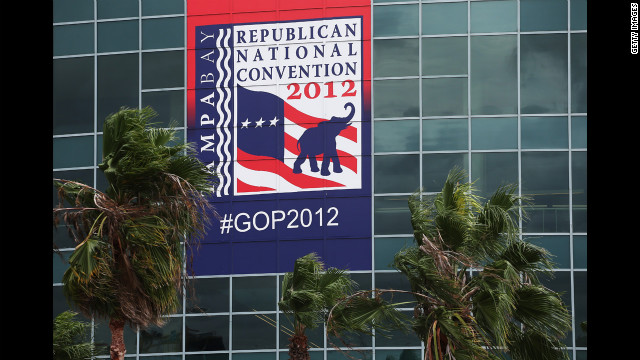 Could Hurricane Isaac derail the GOP convention?
Hurricane Isaac Would Be A PR Disaster For The Republican
Hurricane Isaac delays Republican convention - News - Videos