Breona Moore is the name of the woman who abducted three-day-old Bryce Coleman while disguised as a nurse. This story shook media headlines yesterday after the woman strolled right into a Pittsburgh area hospital and then waltzed out carrying a baby that did not belong to her. Fortunately, little Bryce was discovered safely a few hours later and the ham beast you see in the mug shot below was arrested when she was found hidden in a stairwell near the infant. Unsurprisingly, this idiot woman displays a complete and total lack of remorse for her actions.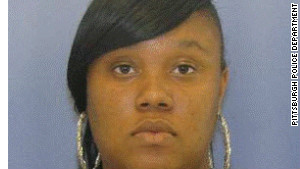 Breona Moore can be seen in the video at the bottom of this post with an expression on her face that shows no regard for what she did. The corners of her mouth lift upward a few times as she fights the urge to smile. She almost appeared proud that she pulled off a child abduction under such normally secure circumstances. When asked why she did what she did, she made a barely legible comment about "losing a child," perhaps meaning she was driven to child abduction over the loss of one of her own. This is an animalistic urge -- to steal the young of another when one of yours is dead or gone. It can be observed in nature, but in no way does it fit in a modern human society. Breona apparently has a criminal record that she is proud of as well, so this is not that surprising at all.
Breona, sadly, is only 19 years old. Here's to a long and hard criminal life ahead of her. She now has child abduction under her belt -- which will be hard to top. Chances are she will go on to offend on a higher level, which is a crying shame. Whatever led this young woman to abduct a three-day-old baby from the hospital where his caring parents were distraught, probably isn't out of her life yet. She probably has a lot to answer to and it's not just this abduction. She seems to be, at the least, very emotionally unstable and at the most smug and proud of her actions. Perhaps there is a balance of both, but at her young age she shouldn't be involved in these types of crimes at all.
Crime analyst and profiler Chelsea Hoffman can be found on
The Huffington Post
,
Chelsea Hoffman: Case to Case
and many other outlets. Follow
@TheRealChelseaH
on Twitter or
click here to contact Chelsea
directly.