Those who didn't want to use the word crisis with the Pittsburgh Steelers running game are free to now. As the injuries pile up, things can't look much worse on their offense. Can they get some help by calling the San Francisco 49ers about Kendall Hunter?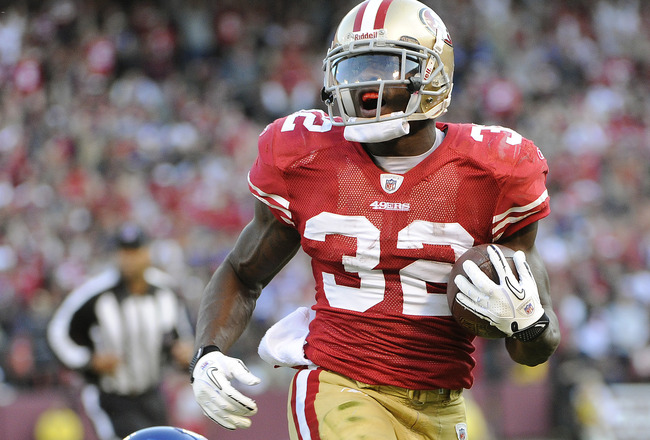 Isaac Redman injury puts Ben Roethlisberger in crosshairs
The Steelers coaches went into training camp confident the offense could get by without starting running back Rashard Mendenhall. Their reasons seemed sound. The new offense built by new coördinator Todd Haley would feature the talented trio of Pittsburgh receivers in Mike Wallace, Antonio Brown and Emmanuelle Sanders. They would look to star quarterback Ben Roethlisberger. Barely two weeks into the preseason and things are already off the rails for Pittsburgh. Trouble with the offensive line put the plan of a pass-first attack in doubt. Pro Bowl receiver Wallace still hasn't returned from a holdout. Rookie left tackle Mike Adams looked bad in his first game before he got hurt. Yet the worst news came when backup running back Isaac Redman pulled his groin during practice. With Mendenhall out for at least six regular season games, losing Redman could sink any hopes of actually running the ball for the Steelers. That could force Roethlisberger behind a line that hasn't shown they can protect him. Is there any way for Pittsburgh to avoid disaster?
Hunter lost in a backfield with Brandon Jacobs and LaMichael James
Pittsburgh normally doesn't like trades, but the San Francisco 49ers are a team they could call. Where most teams in the NFL like to stack their offenses with wide receivers, the 49ers have stuck close to an old school style by scooping up running backs. The team already has Pro Bowler Frank Gore. Still in free agency and the draft, they chose to add two-time champion Brandon Jacobs and blazing rookie LaMichael James out of Oregon. Gore has no reason to fear these two players taking his job, but that's not the case for his backup Kendall Hunter. After a quiet début last season he came on late in the year to help Gore get the 49ers into the playoffs. He averaged 4.2 yards per carry and has no bad injury history. Throw in a talent for catching passes out of the backfield and it is still curious why San Francisco chose to invest deeper at running back. One strategy is have lots of talent at one spot. This affords a team to collect draft picks or other players they might need from other teams. Hunter could become a perfect fit in Pittsburgh with his multi-skill set and take pressure of Roethlisberger.
The Pittsburgh Steelers have a long history of finding ways to win when injured, but the latest blow to Isaac Redman puts their franchise quarterback at risk. Meanwhile the San Francisco 49ers knew they had Kendall Hunter when they signed Brandon Jacobs and drafted LaMichael James. If the price is right they might find future help by dealing him.