A VERY CONTINENTAL KISS.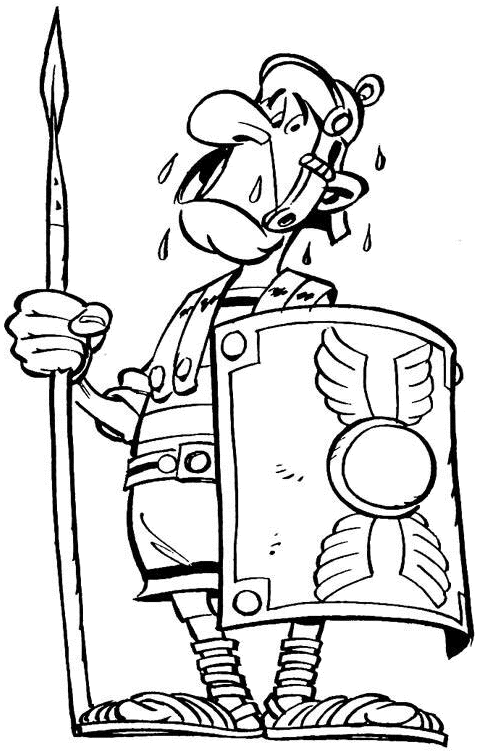 My two ancestors of two-thousand years ago gaped at the newcomer.
For the first time in his life Owongus hit on a truly impenetrable language barrier.
During his time as a slave in Rome, serving Sceptus at the Temple of Janus and subsequently being dragged as a work-force to the tumbling edifice that was the Temple in Pompeii, he had been able to understand most people. They spoke street Latin (very different from the written variety) and a kind of pidgin-Latin, which incorporated many elements of his home-tongue. It must be remembered that at the time the Romans had recently conquered great swathes of Britannia and the first thing they did was insist on an element of communication via the spoken word. The natives had to learn the language of Rome (or bits of it) because the Romans wouldn't learn Native.
But this soldier, dressed as a Roman soldier, must have been recruited from some far-flung corner of Empire where an outlandish language was spoken, and being of limited intelligence (ie, thick) he had sadly failed to pick up a single syllable of the civilised and civilising tongue, so he barked at Owongus and Mirumtia in Gobbledegook, which bore no relationship to anything they had ever heard before.
"Crum-bum-gum-zum!" (or words like that) barked the soldier, bristling.
"What you saying?" asked Owongus, politely because the other bore weapons and he didn't.
"Zum-gum-crum-bum-bum-bum!" remonstrated the soldier, his straggly beard doing its best to stand on end. He waved a vicious looking spear under Owongus's nose and might have picked it with the sharp end had not something totally unexpected happened.
A figure in a leaf-green minute mini-kilt (or possible skirt, let's not get tongue-tied with pedantic distinctions here) appeared from nowhere and tapped the bristling soldier on one shoulder.
"Having trouble, honky-tonk?" it asked.
The soldier, being basically slow on the uptake, turned round to see who had called him by what sounded like an offensive name, and arrived face-to-face with Bern (for it was he) just in time to receive a blade between the ribs, administered by the long-legged saviour of our heroes with one savage and accurate lunge.
"Come, quick," he hissed, "these characters hardly ever go around singly, unless they're after some forbidden nooky, and I see no nooks round here!" he added.
"Where..." stammered Owongus.
"You've got to learn to be alert," Bern told him. "Walk around with your eyes shut and you won't be walking around for long, I'm afraid. But then, I guess that's why they call me Spider: I see things I suppose I shouldn't be expected to, and set traps for my enemies. It's how I've stayed alive in this accursed Empire. If you two are to join me – and three sets of eyes will always be better than two – then you must learn pretty quickly."
"Er … yes," stammered Owongus.
Both he and Mirumtia were suffering. They'd been scared half way to the mythical underworld by an exploding Vesuvius and its pyroclastic effluence, then gone close to death, becalmed and without water on a salty sea until half-rescued, half-captured by three far from pleasant pirates with dubious intent. Then there had been the tiger episode, enough to scare the willies out of anyone, and now here they were in the company of an odd but apparently friendly enough Bern and a dead savage soldier.
Mirumtia decided she had seen enough of death, and fainted.
"Whoa! Look to the lady, Honky-tonk!" exclaimed Bern, and he produced, from under his brief kilt-affair, a small corked bottle which he opened and wafted under Mirumtia's nose until she spluttered and opened her eyes.
Owongus put his arms round the young woman, and cuddled her. It was the first time in his entire adult life that he'd been that close to a woman of any age, but some instinct, some desire to do all he could to comfort her, drove him to the kind of proximity he had never known before.
"You'll be all right," he whispered.
"Honky-tonk, that's not what I'd call particularly manly," muttered Bern, "but listen to my advice and let's get moving! There are probably dozens of this chap's playmates sneaking up on us as we prat around! And if an army catches you I'm afraid it could well beyond my skill to rescue you for a second time."
"Owongus … you're so sweet to me," breathed Mirumtia.
"Can't you hear me, for Pluto's sake?" demanded Bern.
"Just a minute!" snapped Owongus. "Look at her! She can't go much further without food and drink, and come to think of it, neither can I."
"Mighty Heavens, give me strength!" muttered Bern. "Well, I'm off, on my own if I have to. And if it's any interest to you I'm going that way..." he pointed to the right,"... which is as far from the Roman soldiers as possible, but by no means a safe distance from them. Follow if you have to, but I'm looking after number one!"
"Owongus," breathed Mirumtia, "hold me..."
"But I won't wait long," added Bern.
"Like this?" asked Owongus, and carefully, gently, he pulled Mirumtia towards him and did what, for him, was the impossible. He planted a huge kiss very carefully full on her mouth, and his heart almost stopped its beating when he felt her lips part and the tip of her tongue emerge, searching for his.
"Good grief," sighed Bern.
© Peter Rogerson 15.08.12