Things were bad enough after Brandon Marshall left but the Miami Dolphins may have sunk their offense with their latest moves. Should they make an all out push to get Mike Wallace from the Pittsburgh Steelers?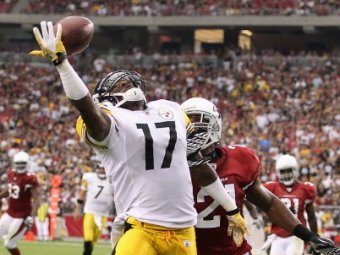 Chad Johnson debacle leaves Joe Philbin searching on offense
Fans questioned why Miami let Brandon Marshall leave so easily, regardless of his off-the-field problems. They weren't convinced either when the team brought in 33-year-old retread Chad Johnson to fill the void. Now that Johnson took barely half the offseason to ruin his time with the Dolphins by getting arrested for battery, head coach Joe Philbin gets left with little more than questions on offense. The team managed only one touchdown in an exhibition against Tampa Bay. Is it reasonable to expect more from the team without their three-time Pro Bowl receiver in Marshall? Philbin had few options on what to do with Johnson but only said he didn't "fit" what the new offense wanted to do. In fairness Chad did little in the first preseason game and the battery charge likely only sealed the deal and wasn't the cause. Either way Philbin has few if any superstars on offense. Reggie Bush managed his first 1,000-yard season last year. Outside of the offensive line with Pro Bowl talents like Jake Long, the Dolphins don't look very good. Can they fix that, and if so, how aggressive will they need to become?
Wallace situation a mystery even to teammate Ike Taylor
One player that still hasn't fallen off the rumor wire is Pittsburgh Steelers star Mike Wallace. The team has taken a firm stance on his contract status by not meeting his lofty price. In response the Pro Bowl receiver hasn't attended any of the Steelers practices since things kicked off in July. Some voices hint he will return for opening day but that doesn't make fans feel any better. Missing offseason work can affect an entire year. It happened to superstar running back Chris Johnson in Tennessee, who had his worst season as a pro following a long holdout. Pittsburgh teammate Ike Taylor, a good friend of Wallace, added to the fears by saying he wasn't sure when—or if—the receiver would return. His only hope is that Wallace comes back in shape. Either way the Steelers have a problem. Their offensive line hasn't looked good during the preseason so far and not having the best pass catcher for quarterback Ben Roethlisberger just makes it worse. Some wonder if Pittsburgh can't bring Wallace back that they might trade him. His value is certainly high. A team like the Miami Dolphins could pay big to get him. Wallace is only 27 years old and one of the fastest players in football. Joe Philbin could find many uses for him in the pass-first offense he brought from Green Bay.
The Pittsburgh Steelers aren't interested in trading Mike Wallace anyway. So for the moment the Dolphins should mourn the loss of Chad Johnson and keep working. Things change everyday in the NFL.