DOREENA'S DEMISE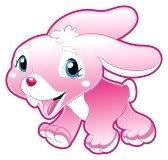 Owongoo struggled as he tried to create footwear out of a few old skins and some slivers of slate. He was, you recall, an ancestor of mine. Flakes of his DNA can be found in my blood and I attribute my own innate inventiveness to those few strands.
Mirumda, his lovely wife, was watching him, her brows beetling in to almost one harsh line that Owongoo found both attractive and seductive.
And not so far away Doreena, the retired Neanderthal porn star and exotic dancer, stood in the middle of a large and somewhat civilised cave, addressing the main male members of a tribe of people who couldn't have looked less like Neanderthals if they'd tried. They were, according to them, Homo Sapiens, though how men so primitive hit upon that kind of terminology is beyond me.
"The great pink fluffy rabbit has always been there," she murmured, chewing on a wad of her favourite comestible. She had developed a fondness for a certain variety of mushroom that grew in fairly copious quantities in those far-off days, and that fondness was probably because of the dreams and nightmares and hopelessly unreal visions she experienced as a consequence of a great deal of chewing.
"Tell us more, oh ancient hag," murmured one of the men, his eyes piercing in a way that Doreena found discomforting.
"I am no hag!" she protested, but then resumed her favourite subject. She had experienced mind-blowing hallucinations and she wanted to share them with anyone who'd listen and most who wouldn't. Why, at that moment as she chewed and sucked her head was spinning like a top, and central to all that spinning was a gigantic pink rabbit. It seemed to be always with her these days. Even at night as she lay sleeping and dreaming (she had weird dreams, to say the least) that rabbit was there, it's bloody eyes boring through her more mundane thoughts and gouging away at her innermost brain.
"We say you are," grunted a second Homo Sapiens. "We say you are a hag because you are one of the old people who have all but vanished from the lands around here. I myself ate several of them! They were tasty, to be sure, if cooked properly, and the menfolk had silly girly voices that made me want to kill more and more of them, the pesky creatures! So if we say you are a hag take it as a promise that we may not eat you because we don't choose to eat tough meat and hags are surely tough."
"I was talking of the great big fluffy bunny," continued Doreena, hesitantly. "For I have communed with him and he has let me into the greatest secrets of the Universe. You know what the Universe is, you egocentric little men?"
The first Homo Sapiens (called Fred in his own tongue) spat a round little sphere of toxic vomit in her direction and revealed two rows of yellow and black teeth as he spoke: "It is everything there ever was," he said, his voice as rough as two old flints being rubbed together.
"You are wrong!" screeched Doreena, her mind seeking to elaborate. "It is everything that ever was and," and in order to underline her thesis she slashed the air with one hand so that half a dozen of the men ducked, "and it is everything that ever will be!"
"How can you know that?" sneered Fred, spitting again.
"I know because I commune with the Great Builder, he of fluffy pink hair and endless knowledge. He who created me and you and the world we share, who moulded both mountains and streams, who placed the sun and moon and stars in the sky in the beginning of all things. He tells me everything I need to know."
"In your dreams," tittered the second Homo Sapiens man, who in his own tongue was called Barney.
"We've seen your kind before," added Fred. "You chew those magic mushrooms and get the weirdest ideas, and then expect us normal folks to believe them."
"That's what you do," echoed Barney
"You're a junkie," scoffed Fred, "we've seen enough of them before, getting higher than a kite and believing nonsense, and there is one trouble with you and your version of crap..."
"One trouble," echoed Barney.
"And that one trouble is there's a danger sensible folk will forget the junkie part and remember the nonsense," snarled Fred. "And that may colour the whole future, from now until eternity, and I see danger in it. I see great danger! So, hag, too tough to be eaten by wise men, take yourself away from us, into the cold world, and let your pink bunny save you!"
"Let it save you," echoed Barney.
Fred scowled at him and kicked him on both shins before picking Doreena up with two powerful hands and hurling her into the eighteen inches of snow that lay like a freezing blanket on the world outside his cave.
© Peter Rogerson 12.07.12