Rumors stay rumors until backed up by facts, but history shows holdouts can easily turn into trades if pushed far enough. Were the Chicago Bears in that spot, where would they send Pro Bowl running back Matt Forte?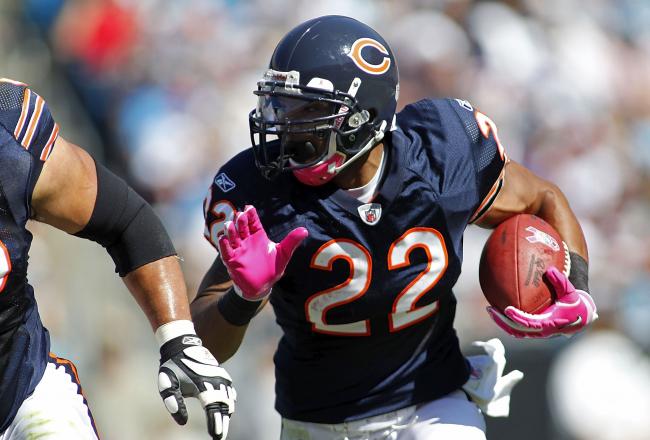 Forte listed with Jay Cutler as one of the Bears key core players
One thing fans and experts can agree on with Matt Forte is he's a critical part of the Bears offense. Together with quarterback Jay Cutler, the two make up what is the core of the Chicago offense. Together with receivers Brandon Marshall, Earl Bennett, and Devin Hester, it seems the Bears for the first time in decades have a brighter future on offense than their storied defense. At 26 years old, Forte stands at the heart of it in his prime and eager to help his team to a championship. That's why some are nervous about his ongoing holdout for a new contract. While it's unlikely it will go into the regular season, there is a chance the Bears could lose him to free agency next season if they don't get a deal done. That means they can do one of two things. They either let him go for a cheaper option at running back or trade him. Given his value as a runner and receiver, the Chicago Bears front office wouldn't do their roster any good letting Forte walk. So if they can't bring him back a trade is the next best thing. The problem is where to send him.
Pittsburgh Steelers and Green Bay Packers have the need and bait
Trades are strange animals in the NFL. Teams generally make deals with other teams they trust or teams that are well outside the division and even conference. That said, it's not just teams that need running backs that would take interest in Forte. The always aggressive New England Patriots or Seattle Seahawks could become interested. However if two teams came to mind with both need and the means for a trade, it is the Pittsburgh Steelers and Green Bay Packers. Everyone knows the rivalry between the Bears and Packers so trades are rare. The last time the two sides made a deal was 13 years ago. That doesn't change the fact that Green Bay doesn't look very good at running back. The team has high hopes for third-year man James Starks, but his history shows injury and inconsistency. As for Pittsburgh, their best running back Rashard Mendenhall is hurt and might not return to form when he comes back. Those replacing him in Isaac Redman and Jonathan Dwyer are little better. Either team would find great value in Forte and have draft picks or young talents to offer Chicago in a deal.
Matt Forte wants to win with the Chicago Bears, but business is business. If he pushes enough, the team might trade him. The Pittsburgh Steelers and Green Bay Packers aren't the first choices, but they could become the most interested.