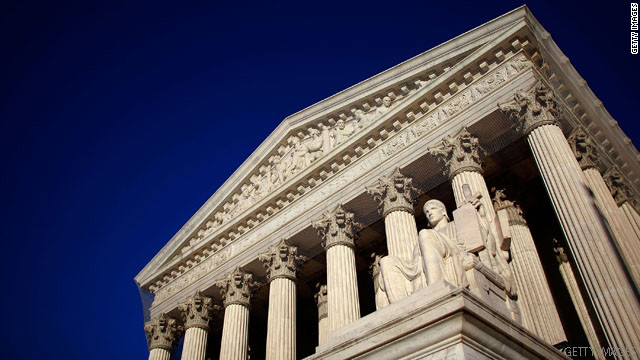 (Obama condescending to AZ Governor... )
Live blog: Supreme Court strikes down three parts of immigration law, upholds one
 
SIMPLE BREAKDOWN:
AZ RULING: Court has overturned sections requiring a) aliens to carry a registration papers... more....
AZ RULING: Court has overturned section of AZ law: b) prohibiting illegal immigrants to seek work, saying fed. law overrides this state law.
AZ RULING: Court has overturned section of AZ law: c) allowing police to stop and arrest a person they suspect of being deport-able (illegal)
AZ RULING: SCOTUS UPHELD requirement that police try to get immigration status of anyone they arrest, but court ruled on procedural grounds
NOTE:  CNN's John King added that opponents feel the portion of the law which was upheld is what many critics said was tantamount to "racial profiling."
Updated at 10:29 a.m. ET] How did Americans feel about the Arizona immigration law before the Supreme Court ruled?
A CNN/ORC poll conducted on May 29-31 found that 75% were in favor of it while 2% opposed it.
CNN's Kate Bolduan, clarifying the ruling, said of the provision that was upheld: "If they suspect you have broke a law that is already on the books, they can check your immigration status" if theres reasonable suspicions a person is in the country illegally.
[Updated at 10:26 a.m. ET] The Court ruled largely in favor of the U.S. government, striking down three parts of the Arizona immigration law, but the Court did uphold one the most notorious provisions: A requirement that local police officers check a person's immigration status while enforcing other laws if "reasonable suspicion" exists that the person is in the United States illegally.
The question now is can that single provision stand on its own, or does the court action mean Arizona has to go back to the drawing board on their immigration law.
 
Tense wait...
RULED: Eighth Amendment forbids life in prison without possibility of parole for juveniles...
Court rejects corporate campaign spending limits...
Split verdict on Arizona's controversial immigration law, upholding some parts, rejecting others... Developing...
POLITICO Breaking News
-------------------------------------------------
The Supreme Court on Monday struck down several parts of the Arizona anti-illegal immigration law but rejected a challenge to the law's most controversial provision. That measure, requiring police to conduct immigration checks on individuals they arrest or merely stop for questioning whom they suspect are in the U.S. illegally, does not appear to violate the Constitution by intruding on the federal government's powers to control immigration, the court said. However, the justices said further legal challenges to the provision can go forward after that part of the law takes effect.

For more information... http://www.politico.com
 
NOTE:Â  OBAMACARE ON THURSDAY!