Fidelity Investments Funding 'Synthetic Biology' Takeover of Life
 
Lab-created artificial species will outnumber natural life 50-to-1, financial firm claims
Aaron Dykes
Infowars.com
June 19, 2012
RELATED: Genetic Genocide: Humanity's Greatest Threat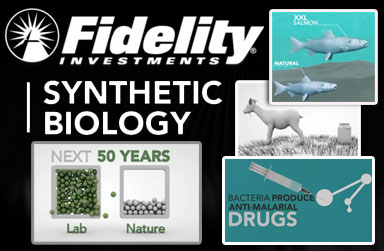 Biotech and other emerging technology is jeopardizing the future of the human race.
In its latest effort, Fidelity Investments is aiming to drive billions of dollars of global finance capital into the emerging field of "synthetic biology", using promotions and social media (as in its "Follow the Green Line" ad campaign) to raise interest. Fidelity is also trying to take on water shortage issues, "personalized medicine" and has partnered with the TED Talks (along with dozens of other firms) that have become a self-proclaimed authority on where technology is going. For Fidelity, it is part of an effort to bolster the firm's image as responsible and innovative. But is it?
Just as big money has backed carbon credit schemes and green technology, Fidelity is making a push to back 'synthetic biology,' which it says could be the "defining technology of the 21st Century," though admittedly it is still in the 'experimental phase'. In essence, synthetic biology is just another buzz term for what has already become the very controversial and dangerous field of biotech & genetic engineering.
For example, scientists have shown that genetically-engineered salmon– hailed below in Fidelity's promo video as a milestone in innovation– could wipe out the less aggressive natural salmon population within 40 generations. Fidelity also touts the use of GM bacteria to produce new malaria vaccines– part of the larger emerging field of "pharming," or growing pharmaceutical products inside genetically-modified crops, animals, and microorganisms. For all its potential promises, GMOs have instead been linked with organ failure, infertility and reproductive problems, as well as widespread environmental impact.
http://www.infowars.com/fidelity-investments-funding-synthetic-biology-takeover-of-life/
 
 
 
 
It's been said time and time again that, we as Americans have sunk.
Ten Commandments removed well we shall see how much good that does you and did you when you see whats about to hit this country.
 
Gay and married,  hmmmm  this won't do you any good any more either what good is it when your controlled by a " Hitler"  those of you who know history know it, those of you who have no friggen clue what your talking about will be the ones likely to attack,  Obama will be hailed as a hero omg! What a sick thought that idiot who nobody even knows who he is.
 
Even those who follow the freak, are beginning to wonder who this bozo is. Oh and all of a sudden his amazon wife, want's to make it look like she's got white in her family,  that way she can include that her so called white side went to Africa know why because they know America is getting real ticked off at their parties, and adventures around the world,
and don't play the idiot off as a hero and blame it on Bush that's old  and yeppers your right Bush is just as guilty but Obama is pathetic, and enforcing more than Bush ever did ... simply because it falls oh Obama's watch.