Cougar Town starts the week in Jules's kitchen, but for once, they don't seem to be drinking wine. It's a little jarring, frankly. Travis is holding Tampa. They're waiting for Holly to pick Tampa up, and Jules is trying to figure out a way to not hang with Holly (Briga Heelan), who always wants to bond over shots of tequila (possibly Corzo tequila?). Grayson tells her just to say no, but Jules tells him she can't say no...to tequila. That's how Travis came to be. Turns out that's also how Tampa came to be.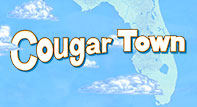 Jules makes Grayson stand with her to block Holly from entering the house while telling the others that they have to tell Holly that there will be no hanging out today because they all have to be somewhere. Holly comes through the back and Ellie tells Jules that the thing was cancelled and jets. Travis leaves with her as Holly pours the shots.
Jules and Grayson decide that they want a beach wedding so Jules goes to town hall to file for a permit. Turns out that while parties are okay, weddings are not. Permit denied. The clerk tells her to talk to the mayor. Being not at all interested in politics, Jules isn't even aware there is a mayor. Turns out it's Roger (Barry Bostwick - ha, since he also played the mayor in Spin City), who it turns out married Barb (Carolyn Hennesy). Roger is really kind of uninterested in helping Jules with a permit.
Jules goes home to talk Andy into running against Roger so that she can get that wedding on the beach. It doesn't take much convincing. Ellie is furious since this means she'll have to talk to people and she doesn't like people. She wishes the karma gods on Jules. Jules scoffs. Which is right about when Jules and Ellie walk in on Travis making out with Holly.
Andy really wants to run for mayor, but not being a fool, he asks Ellie if she's okay with it. She asks if she can take some time to think about it. She then tells him no while they're in the car. Showing that he really, really wants this, he drives over the speed bump he had installed to save Baby Stan from being run over while trying to feed the monster in the manhole (Ellie's parenting at work). The look Ellie shoots at him when this causes her iced coffee drink to splatter all over her face is not pretty.
The thing is that she loves Andy. So she tells him that she's changed her mind. He's thrilled. Of course, she has some demands. Parking anywhere she wants? Just the start of the list.
Jules forbids Travis from ever seeing Holly again. Grayson and Travis bond over Holly's kissing technique. Travis convinces Jules that they've all been really mean to Holly. Holly is just a single mom, trying to do the best she can. Jules realizes that Travis is right. She welcomes Holly to the family. Holly says that she really wants to hug her. Jules waves her over and it's sweet. Until Holly says that she hugs like Travis.
Laurie and Bobby are relegated to the "c" storyline with Bobby showing that he is prone to racial stereotypes when he offends an Asian customer of Laurie's by telling him that he must really wish that he could wear Laurie's camera cake around his neck. Then he offends a black customer by asking him if he can dunk. Why are they all of a sudden going there with Bobby? Who knows. But it prompts Laurie to call a race talk with Andy, Sig (Shawn Parikh) and Wade (Edwin Hodge), Laurie's Skype boyfriend from a few episodes ago. Laurie takes it as a good sign when Bobby says that he loves Andy, the Latino, and leaves it at that. Never mind that Bobby has always loved Andy.
Cougar Town's title card asks if people would watch the show if it was called Pig Trials. Jules mentions that her cousin was killed by a pig and that there might be a trial. Grayson and Ellie are skeptical but question her about the logistics at the end. So...would you watch if it were Pig Trials?