Science: Hope for breakthrough in search for gravitational waves
I think most  physicists would agree that gravity is the biggest mystery and that physics hasn't had any significant discoveries  for nearly thirty years; while biology and other fields have had many discoveries.
"For the most part, atheistic materialism has served physics well in determining the physical or material causes for the way matter and energy behave in the universe. But the one process that has to this day thwarted attempts to fully define in a materialistic way is gravity. Newton recognized its existence in the 17th century, but couldn't explain it. Maxwell proposed it was a force like electromagnetism in the 19th century, but could not demonstrate it. In the 20th century, Einstein finally gave us a functional model of gravitational effect based on spatial geometry, but could not join it mathematically with the other elementary forces of nature. The obstacle facing 21st century theoretical physicists in their quest to mathematically reconcile quantum mechanics and relativity into a single system is gravity . "http://www.cosmicveil.com/the-end-of-materialism-and-a-return-to-god.html
 
 

Hope for breakthrough in search for gravitational waves
Scientists are close to making a discovery that Einstein thought impossible but will vindicate his theories
This article appeared on p22 of the The New Review section of the Observer
http://www.guardian.co.uk/science/2012/apr/15/gravitational-waves-search-breakthrough
Robin McKie  The Observer, Saturday 14 April 2012  
Anglo-German team hopes for breakthrough in search for gravitational waves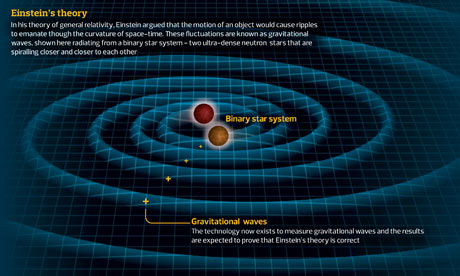 Scientists have been hunting gravitational waves for years, and may finally be on the verge of a breakthrough. Illustration: Pete Guest
From a farm gate outside the village of Ruthe, near Hanover, a broad asphalt path stretches in a straight line for 600 metres. On one side, an orchard brims with apple trees which are starting to bud in the warm German spring. On the other, a metre-wide ditch, covered with corrugated stainless steel, runs parallel to the path. Follow it, and you reach a cluster of temporary cabins and tall aerials from which a second steel-covered trench, also 600m long, emerges at right angles to the first, marking out a giant metal L in the field.
It is an odd sight. With its steel-covered trenches, the place could be an experimental sewage farm or a design centre for drainage ditches. In fact, this is the site of one of Europe's most advanced astrophysical laboratories. Scientists here are hunting the universe's most elusive force: gravitational waves. These cosmic emanations are thought to be hurled across space when stars start throwing their weight around – for example when they collapse into black holes or when pairs of super-dense neutron stars start to spin closer and closer to each other. These processes put massive strains on the fabric of space-time, pushing and stretching it so that ripples of gravitational energy radiate across the universe.
At least, that is the theory. To date, no one has actually detected a gravitational wave. The Ruthe laboratory, a joint UK-German project known as Geo600, has been built to overcome this failure and to show these disruptions in space-time do exist, thus proving that Albert Einstein was absolutely right – and utterly wrong – about gravity.
It is a startling paradox. Harald Lück, a scientist at Geo600, explained: "In his general theory of relativity, Einstein predicted the existence of gravitational waves, which he said would be set off by highly energetic events objects like supernovae or neutron star collisions. However, he also predicted we would never be able to observe these waves because they would be too weak to be detected by the time they reached Earth. We intend to prove him right in the first instance and wrong in the second."...  >>>>