There's not much more fun for football fans than guessing what their favorite team will do in the NFL draft. Are the pending parents and soon-to-be married couple, Jay Cutler and Kristin Cavallari, going to watch what the Chicago Bears do?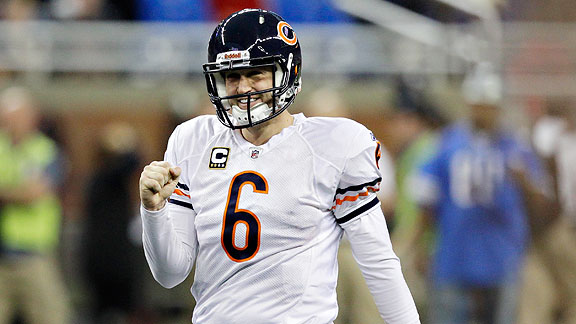 Cutler may be decisive if Michael Floyd or other offensive player is available
General Manager Phil Emery is the man with the plan, but it's the Chicago Bears fans that get a front row seat to see what the first-year man does next. With free agency barely a month old, Emery solved almost every roster problem the Bears had. Perhaps the best part is his bread and butter time hasn't even arrived yet. As a college scout for over fifteen years, Emery knows that great teams start and end through the draft. In his time he's had a hand in helping the Bears pick some of their best players. No player though holds the focus of the NFL draft for 2012 than quarterback Jay Cutler. Emery already got the 28-year-old three new receivers to throw to, two of them Pro Bowl talents and the other a Super Bowl champion. If Cutler could find just one complaint, it's that Emery hasn't put much effort in finding more help on the offensive line. That's why the upcoming draft is very interesting. Most experts believe the Bears will draft a young defender, but others think with influence from the quarterback Chicago might go for a standout receiver like Michael Floyd or an offensive lineman.
Cavallari more concerned with weight than Matt Forte or Brandon Marshall
Cutler hasn't had much time outside of interviews to voice an opinion on what his team has done. His fiancée, Kristin Cavallari, has said nothing at all. If anything the former reality TV starlet seems more concerned about her pregnancy gain in weight than who the Bears might draft. Not altogether expected. With a birth and wedding to plan, football doesn't reach the top of the list for her. That should not shrink her interest in the outcomes of ongoing issues for the Bears including running back Matt Forte and receiver Brandon Marshall. Their problems off the field could have a direct impact on the Cutler household. All the more reason a strong draft might ease their fears.
The Chicago Bears haven't played a down yet, but for the first time there is a reason to think there's a man in charge who isn't all about defense. Phil Emery knows Matt Forte and Brandon Marshall will lead the way for Jay Cutler having success. Then again, would a top offensive linemen or a Michael Floyd in the NFL draft not make things easier? Time will tell. One thing is for sure, Kristin Cavallari isn't bothered with it.