A failed suicide pact has landed one woman in jail with charges connected to the murder of her 18-year-old daughter. Fifty-two-year-old Mary Ethyl Hansen of Salt Lake City, Utah was discovered in her home with a nonfatal self-inflicted gunshot wound to her dome. In another bedroom in the home, police discovered the body of 18-year-old Virginia Ray Hansen, Mary Ethyl's daughter. She had been shot twice in the head.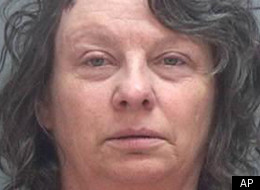 It's being reported that the two had one of those weird relationships where neither of them left the home and spent time exclusively with one another. The 18-year-old woman didn't have friends and took classes online at home. The situation kind of sounds like a feminine version of Norman Bates and his mother in the classic thriller Psycho. She reportedly suffered from mental illness and "wanted to die." At least that's what mummie dearest claims. Mary Ethyl Hansen claimed to also suffer from mental illness.
This "mother of the decade" has been charged with first degree felony murder, which carries a potential sentence of life in prison without parole. If anything this tragic story serves as a reminder that there are people living in the modern world with problems so severe that their silent cries for help go unheard. Living as shut-ins with nobody but themselves for company is not healthy to say the least for an 18-year-old and her aging mother. It may never be known if this is truly a suicide pact gone wrong or not, but hopefully the mother of the slain young woman is punished accordingly and gets the mental health that she needs in the meantime.
Crime analyst and profiler Chelsea Hoffman can be found on The Huffington Post, Chelsea Hoffman: Case to Case and many other outlets. Follow @TheRealChelseaH on Twitter or click here to contact Chelsea directly.