MISSIONARY ZEAL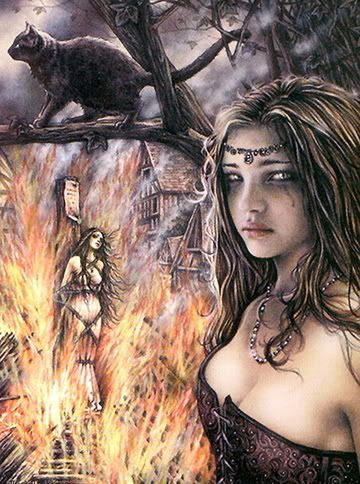 I'm in an odd position here. I've decided that as a continuation of other debates it might be useful if I examined missionaries, and I've immediately come to two contradictory conclusions about them.
But let's start by slipping back into history. Along with their weapons and armies and politics the invaders brought their religion in the company of men designated as missionaries. Their job was to enable the old pagan religions to be disposed of and a bright and shining new one shoe-horned in to take their place. The thing about dominating those who don't want to be dominated is that if you get your sticky fingers on their souls the rest may well follow. And the monotheistic approach of Christianity was a darned sight simpler than the host of deities that can co-exist with each other.
The invaders, in the above instance, were the Romans. They came, they saw and they conquered, and a lot of very good and noble natives had to die as a consequence, especially those who just didn't want hook-nosed pretenders from Rome poncing down their streets. And in their wake (in the fourth century) came the missionaries bringing good news about the newly invented Christian faith. Their job was to convert the savages who had hitherto been the only occupants of the little set of islands that was to become Britain, and they did a pretty good job. The Romans had undergone a sea-change and turned from crucifying Christians for being Christian to becoming Christian themselves. Their Emperor Constantine had seen the light, and he insisted.
I might add a sneaky little aside here, that many of the upper-crust in the Roman set-up were bonkers because of the quantity of lead they ingested. Water was piped to them along lead pipes and the womenfolk used lead oxide as make-up. They even used heavy metals as medicine. The consequence was the emergence of the kind of megalomania that's rarely been seen since, with mothers murdering sons and vice-versa and siblings getting up to all manner of offensive deeds. And it was in this world that Constantine saw the Light.
Centuries later with the Roman empire having retreated to Rome, several other European countries set out on expeditions of conquest, and with them went their interpretation of the old Roman Christianity: but by then it had divided into those who still bowed their craned necks to Rome and those that didn't. The British king HenryVIII (he who had a penchant for changing his wives far too often for their good) needed access to divorce,and he got it by establishing a protestant church at home.
It must have been confusing for those who had never heard the Christian stories to find themselves suddenly regaled by more than one version of them, but that's what happened. Old gods were cast aside, some of the more entrenched aspects of them adapted to become peripheral to Christianity and whole societies made to adapt to accept the silliness which is that faith.
In Britain there gradually developed a more tolerant attitude to different faiths. After all, heads had been chopped off and old ladies had been burned at stakes in the name of Jesus Christ Mark One or Mark Two. Others had suffered the most horrible deaths, with the preacher standing by, prayer book open, and smirking quietly to himself.
There were a few pockets of puritans, men and women who thought that life should be severe and sex a rarity who found the whole idea of the growing tolerance an anathema, and some of them left for the United States, taking their sterile life-style with them. They called themselves the Pilgrim Fathers and let it be known they were fleeing from religious persecution, which couldn't have been further from the truth. It was, in fact, a reversal and they were taking religious intolerance to the New World. And they took a very jaundiced version of the old faith with them, where it helped the natives lose those beliefs that had been traditional to them and have to accept the Middle Eastern nonsense which was, by then, just about everywhere.
Back to my premise, though, that I have contradictory feelings about missionaries. Besides the religious mumbo jumbo that they spread throughout the developing world, quite a lot took enlightenment with them, and the knowledge that their own possibly more advanced societies had developed when it came to medical matters. One of the two aspects of their work was praiseworthy and the other not, though I doubt the good wouldn't have been financed without the funds made available for the bad.
Which brings me to the present day, and a new game I've developed.
We've had quite a few missionaries, Mormons from their Church of the Latter Day Saints knocking our door over the years and my game is to try and convert them from their mishmash of faith to my own: rational observation of everything in range, from the poppy-head in my garden to the most distant visible star – and, by extrapolation, beyond. I may succeed one day!
© Peter Rogerson 21.03.12