Finally, after 3 tumultous weeks, this case is being take out of inept police hands, and being turned over to the U.S. Justice Dep't. to delve into the "facts and circumstances" surrounding the killing of 17 y/o Trayvon Martin. If you're unfamiliar with this case, here's a brief history:
On Feb. 26, 2012, 17 y/o Trayvon Marin was walking home from a convenience store to his father's home, whom he was visiting. His path took him through a gated community where 28 y/o George Zimmerman spotted the teen. Zimmerman, a self-described Neighborhood Watch spokesperson (but apparently not registered with the National organization). Zimmerman called 911 to report a "suspicious person," and was told by Dispatch not to follow the teen. He did anyway, and Trayvon ended up dead with a bullet to his chest.
 
My hear is aching over this entire tragedy~an innocent 17 y/o shot to death, his parents left to, not only grieve, but fight for justice for their son, as his executioner (who's claiming self-defense) has yet to be charged thanks to the shoddy investigation by the Sanford, FL Police Dep't. The links below provide all the details, the last link of the 911 tapes, which are heartwrenching and horrifying, so be forewarned...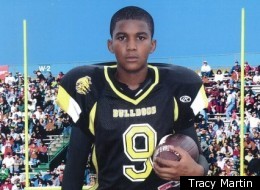 Feds to investigate fatal shooting of Trayvon Martin
Justice Dept. Investigating Florida Killing After Outcry – New York TImes
Trayvon Martin case draws celebrities, feds join investigation
 
Trayvon Martin 911 Audio Tapes Released | Essence.com