TABLE OF CONTENTS
AFTER SUPREME COURT WIN, ANTOINE JONES STILL SEEKS JUSTICE [FEATURE]


Antoine Jones may have won a landmark Supreme Court GPS search and seizure case, but he's still in prison, and he's not too happy about that.

REVIEW ESSAY: THE BORDER AND MEXICO'S DRUG WARS


The literature of the Mexican drug war and the border continues to expand. Here, we look at four recent titles.

NEW OFFER FOR DONATING MEMBERS: "THE MARIJUANA CONVICTION"


We are pleased to introduce our newest offer for donating members, the drug policy classic reprint: "The Marijuana Conviction: A History of Marijuana Prohibition in the United States." This is one is available for donations of just $22 or more.

SEATTLE MAYOR SAYS IT'S TIME TO LEGALIZE MARIJUANA


Seattle's mayor has made a clarion call for marijuana legalization as his state prepares to vote on the issue in November.

LEAP URGES CANADA TO REJECT HARSH CRIME BILL


LEAP has intervened in the Canadian debate over the Tories' harsh crime bill. So far at least they're not listening, to LEAP or others, but the pressure mounts.

INCB ATTACKS BOLIVIA ON COCA STANCE


The International Narcotics Control Board is "concerned" that Bolivia is rejecting part of an international anti-drug treaty, but two prominent NGOs said the INCB is off base in its criticisms.

MEDICAL MARIJUANA UPDATE


Medical marijuana is making news all around the country, from city halls to federal court houses, not to mention dispensaries and patients' homes.

NAPOLITANO INSISTS MEXICO DRUG WAR NOT A FAILURE


As the rumbles for a new approach to drug policy deepen in Latin America, DHS Secretary Napolitano is defending the old prohibitionist approach.

COLORADO TO VOTE ON REGULATING RATHER THAN PROHIBITING MARIJUANA


And then there were two. It's official: Colorado will vote on marijuana legalization in November, joining Washington state.

CALIFORNIA BILL WOULD DE-FELONIZE DRUG POSSESSION


California Sen. Mark Leno has introduced a bill that would reduce simple drug possession from a felony to a misdemeanor.

ANTI-METH PRESCRIPTION PSEUDOEPHEDRINE BILLS DEFEATED


Lawmakers trying to stop meth labs by forcing people get to a prescription for popular pseudoephedrine-based cold medications like Sudafed are running into strong opposition.

THIS WEEK'S CORRUPT COPS STORIES


A police chief popping pills from the evidence room, a sheriff slinging meth, and that's just the lowlights.

THIS WEEK IN HISTORY


Events and quotes of note from this week's drug policy events of years past.
<hr>1. AFTER SUPREME COURT WIN, ANTOINE JONES STILL SEEKS JUSTICE [FEATURE] http://stopthedrugwar.org/chronicle/2012/feb/29/after_supreme_court_win_antoine

by Clarence Walker and Phillip Smith

So, a guy gets convicted in a cocaine conspiracy case and sent to prison for life without parole, but wins on appeal and then wins again in a landmark US Supreme Court ruling on search and seizure law that overturns his conviction and forces dramatic changes in the way federal law enforcers go about their work. You would think this guy would be a pretty happy camper, getting back to his life and enjoying his freedom after sticking a thumb in the federal government's eye. But you would be dead wrong.


Antoine Jones (photo by Clarence Walker)

Meet Antoine Jones, the Jones in US v. Jones, last month's Supreme Court case in which the high court held that tracking a vehicle's movements by placing a GPS tracking device on it without first obtaining a search warrant is constitutionally impermissible. That ruling set off an earthquake under the Justice Department, evidenced this week with reports that the FBI has turned off some 3,000 GPS tracking devices that were in use.

FBI General Counsel Andrew Weissman told a University of San Francisco conference appropriately titled "Big Brother in the 21st Century" that the FBI had had problems locating some of the turned off devices and had sought court orders to get permission to briefly turn them on again, so agents can locate and retrieve them. The Supreme Court decision had caused "a sea change" at Justice, he said.

The Jones case may have been a victory for civil liberties and constitutional rights advocates, but Antoine Jones is still sitting in prison. Determined to nail the former Washington, DC, nightclub owner, federal prosecutors have announced they will seek to retry Jones without the evidence garnered by the GPS tracking device, and they want him securely behind bars until they get around to doing so.

The decision to not free Jones even though his conviction has been vacated and his case sent back to the trial court is of a piece with prosecutors' earlier tactics. After Jones won his case on appeal, prosecutors argued successfully then against granting him bail as they awaited a Supreme Court decision.

They think they have a big time dope dealer. Back in 2005, when the case began, Jones was targeted by the FBI and other federal and state police agencies as a major player in a multi-million dollar cocaine ring with ties to a Mexico-based organized crime group. Investigators said Jones and his co-conspirators distributed cocaine throughout the DC metro area. They eventually won a conviction against him, although it took them two separate prosecutions to do so. It was that conviction that was reversed by the Supreme Court.

Veteran Houston-based crime beat reporter Clarence Walker has been in communication with Jones via mail and the occasional phone call for the past several years. He's also been talking to Jones' appellate attorney, Stephan Leckar, who is exploring a possible plea bargain, although Jones doesn't appear interested in anything less than complete exoneration.

While Jones is pleased with the Supreme Court decision, he's not so pleased with the fact he is still being denied his freedom.

"All I can say I am very happy with the Supreme Court decision and I hope the decision helps millions of Americans preserve their right to have reasonable expectation of privacy," Jones told Walker in a phone interview this month. "The ruling came right on time because who knows how many American citizens the government continues to track and monitor for weeks and months without a warrant. Even some of the men here in prison with me have warrantless GPS issues, like a friend of mines named Sigmund James. The government tracked his vehicle for 14 months."

James was convicted in a massive cocaine trafficking case in Orangeburg, South Carolina, an operation called "Bitter Orange." Like Jones, James was sentenced to life without parole.

Jones said he expected to be released after the Supreme Court decision and that he was "shocked" when Leckar told him prosecutors were seeking to retry him or get him to accept a plea bargain.

"Matter of fact, I thought once the mandate was released, I would be freed from prison right away," Jones said, "but Mr. Leckar said the government will never let me go unless I beat them at trial."

"The government is permitted to retry the conspiracy charge, provided they don't use the GPS evidence," Leckar told Walker. "But there are a number of other serious legal issues that must be resolved including whether drugs and cash said to be from a stash house could be admitted," he explained. "But like I told Antoine, the feds have no intention of letting him go and that they will probably retry him on the evidence that was not obtained by the GPS tracker."

Jones got a sentence of life without parole the first time around, Leckar noted, and if he loses a second time, he could face the same sentence. But Jones is not ready to compromise. Instead he is going to fight, both in the criminal courts and the civil courts.

Jones filed a pro se civil suit against numerous law enforcement agencies alleging numerous abuses, but that jailhouse lawsuit was dismissed by the US District Court for Washington, DC, in 2009. Now, however, Jones is refiling, and he has professional legal assistance this time. He is being represented in the civil suit by the DC law firm of Miller & Chevalier.

"The federal authorities know they not only violated my civil rights, and my wife's and son's rights, but they lied on the witness stand, and they burglarized my home and warehouse," Jones charged. "And so now that I have attorneys representing me in the civil suit against the government, they want to wrongfully convict me again to cover up their lies and the crimes they committed during the investigation of my case. The feds know what they have done was wrong."

Jones is not only on the offensive with the civil suits. He has also filed obstruction of justice complaints with the Justice Department's Office of Professional Responsibility and the Office of the Inspector General. He is alleging that FBI and ICE agents committed various illegal acts in attempting to nail him, including falsifying federal reports, conducting searches without a search warrant, planting evidence, forging signatures on search consent forms, and perjury.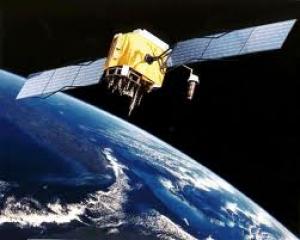 GPS satellite

"Since Mr. Leckar said the government will never let me go unless I beat them in trial. I will focus on my civil rights complaints against the Feds and make sure my wife, son and mother-in-law pursue their civil right suit as well," Jones explained. "The civil suits and obstruction of justice complaints could get the federal agents and the police prison time if they are indicted and found guilty."

Purvis Cartwright, a former federal prisoner and highly respected Houston, Texas-based writ writer who has been closely monitoring the GPS case, told Walker that Jones may have made a mistake by suing the federal government because now prosecutors will come back at him very hard to convict him by using "snitchers" to testify against Jones, snitchers that Jones never met.

Cartwright called that strategy a "get on board" scheme, a way for informants to get their sentences reduced by helping prosecutors. "A rat don't have friends," he said, "only victims."

So far, one high-profile snitch has already gotten on board to help convict him in his upcoming retrial, Jones said. He said Leckar told him the government is planning to call a high-level Mexican drug dealer to say he shipped large loads of cocaine to him.

"I've never met nor talked with the guy in my whole life and he never testified in either of my trials," Jones said.

"The feds, like the DEA and FBI, have snitchers in the joint," Cartwright explained. "They will go to these guys and tell them they are trying to get something on a particular guy and then the feds will share with the snitchers some important background information about the target and next thing you know they ready to testify in court against someone they don't even know," he said. "This is rampant in the federal joint."

"The government still thinks they have a case, but they must have forgot what the Court of Appeals stated in their opinion," Jones said, before quoting word for word: "The evidence linking Jones to a conspiracy was not strong, let alone overwhelming, and the government did not have a drug transaction in which Jones was involved, nor any evidence that Jones possessed any drugs."

Prosecutors are reportedly offering a plea deal that would result in a 12-year federal prison sentence for Jones, but he isn't going to take it despite the possibility he could once again doing life without parole. He maintains his innocence, he said.

"I'll fight this case until the end."

Drug War Issues Driving - Search and Seizure - Police Raids - Informants
Politics & Advocacy Federal Courts - Executive Branch

printer friendly version | e-mail this article | return to table of contents

<hr>2. REVIEW ESSAY: THE BORDER AND MEXICO'S DRUG WARS http://stopthedrugwar.org/chronicle/2012/feb/27/review_essay_border_and_mexicos

Border Junkies: Addiction and Survival on the Streets of Juarez and El Paso, by Scott Comar (2011, University of Texas Press, 214 pp., $24.95 PB)

Border Wars, by Tom Barry (2011, MIT Press, 171 pp., $14.95 HB)

Dealing Death and Drugs: The Big Business of Dope in the US and Mexico, by Beto O'Rourke and Susie Byrd (2011, Cinco Puntos Press, 119 pp., $12.95 PB)

El Sicario: The Autobiography of a Mexican Assassin, edited by Molly Molloy and Charles Bowden (2011, Nation Books, 209 pp., $15.99 PB)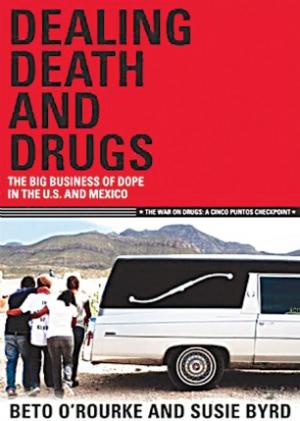 In addition to an ever-increasing death toll, now more than 50,000 since President Calderon sent in the army in December 2006, Mexico's drug wars are generating an increasing level of concern and interest in the US, including a burgeoning literature. Next week, we'll review a trio of new works that seek to describe the emergence and significance of the so-called cartels, but this week, we look at a quartet of books that focus on the drug wars (and the drug scene) along the border.

If there's anywhere in America more attuned to the Mexican drug wars -- by which I mean the prohibition-related violence among competing drug trafficking organizations, between them and Mexican law enforcement and the military, and, sometimes, even between different factions of the Mexican security apparatus -- it's El Paso, just across the Rio Grande from one of the epicenters of the drug trade and the violence, Ciudad Juarez.

That's reflected in these titles. One is written by a pair of El Paso politicians, two more are largely set in the El Paso-Ciudad Juarez bi-national metroplex, and the last covers the US border region of which El Paso is front and center. The view from El Paso, staring across the river at the killing and mayhem, can be frightening, but also enlightening.

In Dealing Death and Drugs, El Paso city council members Susie Byrd and Beto O'Rourke (he of the famous city council resolution calling for a discussion of legalization and now running for Congress) bring a home-town perspective on the drug wars, provide some lessons on the economics of the illicit marijuana business and present a concise, yet cogent, argument for legalizing weed as a means of weakening the cartels and reducing the violence.

Marijuana is critical for the cartels, Byrd and O'Rourke argue, because unlike cocaine, which must be purchased from producers elsewhere or methamphetamine, which requires imported precursor chemicals, the cartels control it from farm to market, generating profits each step of the way. They take you from the pot fields of the Sierra Madre Occidental, where a pound costs $23 to Juarez, where it goes for $73 a pound. Getting it past the border and into El Paso drives the price up to $240, and getting it past the Border Protection Service checkpoints a few miles into Texas gets it to its final US wholesale price of about $550 a pound.

US and Mexican law enforcement seized or eradicated 22 metric tons of Mexican weed in 2008, Byrd and O'Rourke note. That's as much as 90% of high end estimates of all the pot smoked in the US, which means either those estimates are way low or that the business is way profitable. And throwing billions of dollars at the problem through law enforcement hasn't helped.

Legalizing, regulating, and taxing the marijuana market is "the least bad" solution, Boyd and O'Rourke write. Their argument, like the book itself, is pithy, yet compelling, and, as Boyd notes in an afterword, even Calderon is starting to come around. But not yet most policymakers in the US.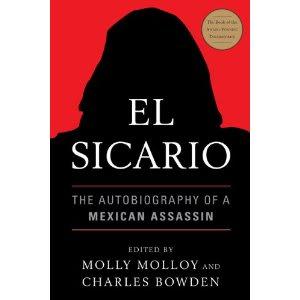 With El Sicario, we take a deep, dark turn toward the underbelly of the Mexican drug wars. Border sage and drug war critic Charles Bowden and translator and Juarez body count keeper Molly Molloy bring the terrifying realities of the business into chilling focus through their interviews with a former cartel hitman now in hiding with a contract on his head. This may be the single scariest book I've read about the Mexican drug wars, not for its calm and collected accounts of horrifying acts of brutality, which can be truly stomach-turning, but for the picture it paints of absolutely corrupted and complicit law enforcement, including the military.

Can you imagine if you don't know whether that cop who just stopped you is going to write you a ticket or shoot you dead without warning, or kidnap and torture you because he's actually working for the cartels? That's the case in Mexico now. Our interlocutor in El Sicario attended the Chihuahua state police academy, rose to the rank of comandante, and underwent training by the FBI, all while carrying out killings, kidnappings, and tortures for the Juarez and Sinaloa cartels. Even more perversely, while he was running the anti-kidnapping squad for the state police, he was using police vehicles to kidnap people and transport drugs.

And he is by no means alone. According to the hit man, about a quarter of his graduating class at the police academy were on the cartel payroll -- from the very beginning of their law enforcement careers! The Mexican police are heavily salted with cartel men; it's a long-term business strategy that has paid handsomely for the cartels, but has absolutely shredded any trust the public has in state and local law enforcement there.

But it's not just rotten on the Mexican side of the border. The hit man details how he and his colleagues transported tens of millions of dollars worth of drugs across the border and how he personally paid a US Customs officer $50,000 to let cars full of drugs get through. El Sicario shows that dirty knows no borders, even if the cartels are smart enough to keep the blood-letting almost entirely south of the border.

But there are other ways US law enforcement is benefiting from the Mexican drug wars. In Border Wars, journalist and Center for International Policy analyst Tom Barry uses a series of interlocking essays to argue that since the September 2001 Al Qaeda attacks, the US has spent billions of dollars "securing the border" against a triple threat of illegal immigration, drugs, and terror, and has accomplished little good, quite a bit of bad, and plenty of stupid.

Barry opens with the death of Jesus Manuel Galindo, who died for lack of proper medical treatment in 2008 in a privately operated, publicly owned federal immigration prison in remote Pecos, Texas. He recalls that until 2006, we typically handled illegal immigration administratively, often simply deporting Mexicans back across the Rio Grande. But since then, the Bush administration began treating illegal immigration as a criminal matter, and now some 20,000 people languish in those distant prisons. Barry paints chilling, Kafkasque scenes of assembly-line "justice" where judges, prosecutors, and defense attorneys, all in the pay of the Us government, process dozens of shackled would-be immigrant laborers into the ever-expanding federal immigration detention system.

There is money to be made there, sucking off the federal teat, although more of it appears to go to lawyers, consultants, dealmakers and lobbyists than to the desperate rural towns hoping a private prison will provide them with a semblance of an economy. There's even more money to be made by border sheriffs and border state law enforcement entities in the seemingly endless billions of Department of Homeland Security dollars to fight drugs and terror.

Barry takes us to Texas and Arizona border counties where the numbers show little violent crime, but the sheriffs and politicians cry to high heaven about "spill over violence," Korans found on the border, and the threat of narco-Hezbollah conspiracies, for which there is no evidence. Some of these counties are among the poorest in the nation, lacking social and public services, yet in one of them, the sheriff's department is so awash in federal grant money that each deputy has two official vehicles, one patrol car and one SUV.

Along the way, he exposes the ugliness of border security politics and some of it practitioners, such as Govs. Rick Perry of Texas and Jan Brewer of Arizona, who use a politics of fear and hate to firm up support among their most reactionary supporters, who hype nonexistent violence on this side of the border, and who constantly tout their border security efforts "without help from Washington" even as they take in billions from Washington to pay for their loudly-touted initiatives. It's rank cynicism, opportunism, and hypocrisy at its worst, and Barry nails it.

For Barry, the central problem is our inability to enact comprehensive immigration reform, a goal always pushed further into the future as we "secure the border" first. And, he says, we have to separate national security from public safety. The gargantuan Department of Homeland Security should worry about terrorists; a separate Customs and Border Protection Service should deal with illegal immigration and drugs.

"The standard of success for our border policy shouldn't be how completely sealed and secured our border is," he writes, "but rather how well it is regulated. New regulatory frameworks for immigration and drug consumption are fundamental prerequisites for a more cost-effective border policy." And a more sane and human one.

Finally, with Border Junkies, University of Texas-El Paso borderlands historian Scott Comar takes us back to "the good old days" in Juarez, a decade ago, before the city earned its blood-drenched reputation. In an eye-opening work of auto-ethnography, Comar tells mainly his own story of his descent into abject addiction, in which he moved with appalling speed from owning his own moving truck to panhandling on the streets to feed his habit.

In telling his own story, though, Comar unveils a never-before-written-about world, that of the street junkies of Juarez. His account, based largely on his journal entries, details the day-to-day struggle of the border junkies, the strategies they adopt to survive and score -- and not necessarily in that order -- the kinship and friendship networks that envelop them, the heroin distribution systems that feed their insatiable appetites. For those with a taste for anthropological examinations of the junkie life, this is fascinating stuff, right up there with the work of Philippe Bourgois.

Border Junkies is notable in one other respect: I don't think there is one mention of the cartels in it. Comar recounts constant harassment by the Juarez police (and the El Paso police, too) and petty corruption, he mentions that some of his fellows belonged to gangs, though only passingly, but the existence of the cartels, the source of their dope, is so distant from their daily lives that it is as if they don't exist.

Of course, that was before the death toll in Juarez started climbing to thousands every year. Now those street gangs that in Comar's time seemed to be engaged mainly in minor thuggery, a little smuggling, and posing with pistols have, in the pressure cooker of the Mexican drug wars, morphed into true killing machines like Barrio Azteca, the Artist Assasins, and La Linea. Those guys who quietly peddled smack on the corners or out of their houses in Comar's day died by the hundreds when the violence swept through just a few years later.

Wretched as the border junkie's existence is, it is doable. Comar did it for three years, commuting over the river to panhandle in El Paso, then back across to cop and nod. It was a gritty, miserable existence, but Comar makes it seem almost routine, banal. And, along the way, he has some interesting things to say about addiction and recovery, too.

Perhaps it's fitting to end with the image of the junkie straddling the border, because the root causes of Mexico's drug wars certainly do. Whether it's America's never-ending appetite for Mexican weed, the cartels' addiction to money and power, their alcohol and cocaine-numbed killers, or border state and federal law enforcement's addiction to immigration/drugs/terror funding booty, it's all entangled there on the line.

Mexico may be another country and, thankfully, the violence, at least, remains on that side so far, but we are all in this together. Legalizing marijuana or even ending drug prohibition in the US won't make the cartels magically disappear, but failing to do so will only ensure that they grow ever more entrenched, while continuing to provide sustenance to malign political forces and authoritarian, if not downright Orwellian, policing tendencies here.

Drug War Issues Mexican Drug War - Addiction - Marijuana Industry - Marijuana -- Personal Use - Immigration - Budgets/Taxes/Economics - Border - Violence - Police Corruption - Interdiction - Eradication
Consequences of Prohibition Government Corruption - Turf Wars
Politics & Advocacy Congress - Decriminalization - Executive Branch - Federal Courts - Legalization - Marijuana Legalization - Prohibition - State & Local Executive Branches - State& Local Legislatures

printer friendly version | e-mail this article | return to table of contents

<hr>3. NEW OFFER FOR DONATING MEMBERS: "THE MARIJUANA CONVICTION" http://stopthedrugwar.org/chronicle/2012/feb/29/new_offer_donating_members_marij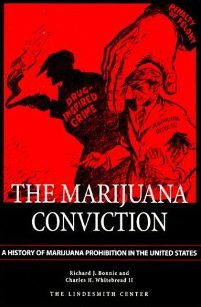 Dear Friend of Drug Policy Reform:

I am pleased to announce our newest offer for donating members, the reprinted drug policy classic The Marijuana Conviction: A History of Marijuana Prohibition in the United States. Originally published in 1974, this amazing work by professors Richard Bonnie and Charles Whitebread was the first comprehensive history of marijuana use and its prohibition in the United States. Bonnie and Whitebread's historical overview examines the origins and history of marijuana prohibition as well as the laws' unintended consequences.

Thanks to a generous donation from our friends at the Drug Policy Alliance, we are able to offer this 368-page volume, which retails at $32.49, for $22 including shipping. (Add $2 for Canada or Mexico or $8 for overseas.) Donate $22 or more to StoptheDrugWar.org and you will be eligible to receive a complimentary of The Marijuana Conviction. Click here to make a donation online by credit card or PayPal. You can also donate by mail -- info below.

As a reader of Drug War Chronicle you know that it is a challenging time in drug policy reform. Medical marijuana is under attack; draconian sentencing bills are getting heard in Congress; drug testing bills are spreading from state to state. To help us fight back as hard and as well as we can, I hope you'll consider donating more than $22 if you can afford it, or to supplement your $22 with a continuing monthly donation. If gift items like The Marijuana Conviction are not important to you, I hope you'll consider sending a donation that's entirely for our work. (We are grateful for donations of any size -- don't feel bad if $22 is what you have to spare and you want the book!)

Donations to StoptheDrugWar.org can be made online at http://stopthedrugwar.org/donate, or they can be mailed to: DRCNet Foundation (tax-deductible), P.O. Box 18402, Washington, DC 20036; or Drug Reform Coordination Network (non-deductible for lobbying), same address. (Contact us for information if you wish to make a donation of stock.) Be sure to indicate if you are requesting The Marijuana Conviction or another of our current gift items.

Thank you for standing with us to stop the drug war's cruelties and meet the opportunity this time offers to make a brighter future. And don't get discouraged by the challenges our movement and the cause are currently facing: Time, and the truth, are on our side!

Sincerely,


David Borden, Executive Director
StoptheDrugWar.org
Washington, DC
http://stopthedrugwar.org

Drug War Issues Marijuana Policy
Politics & Advocacy Prohibition - Academics

printer friendly version | e-mail this article | return to table of contents

<hr>4. SEATTLE MAYOR SAYS IT'S TIME TO LEGALIZE MARIJUANA http://stopthedrugwar.org/chronicle/2012/feb/23/seattle_mayor_says_its_time_lega

Seattle Mayor Mike McGinn (D) used his state of the city address last Tuesday night to make a heartfelt plea for marijuana legalization. The mayor's remarks came as a new poll showed that an initiative that would legalize marijuana is favored by voters.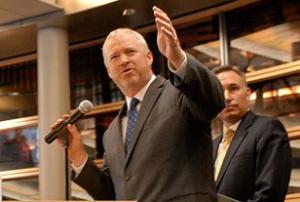 Mike McGinn

"It is time we were honest about the problems we face with the drug trade. Drugs are a source of criminal profit, and that has led to shootings and even murders. Just like we learned in the 1920s with the prohibition of alcohol, prohibition of marijuana is fueling violent activity," McGinn said in his prepared remarks.

"Seattle is the kind of place that isn't afraid to try a different approach," he continued. "We support safe access to medical marijuana and made enforcement of possession of marijuana for personal purposes our lowest enforcement priority. But we've learned in the past year that with the federal war on drugs still intact, and with our kids still getting gunned down on the streets, we need to do more.

"I know every one of the city council members sitting to my left and right believe as I do: It's time for this state to legalize marijuana, and stop the violence, stop the incarceration, stop the erosion of civil liberties, and urge the federal government to stop the failed war on drugs."

Mayor McGinn's remarks came as Washingtonians prepare to decide the issue for themselves in the November elections. A marijuana legalization initiative, I-502, has already been approved for the ballot. Sponsored by New Approach Washington, the initiative would create a system of state-licensed and -regulated marijuana commerce and allow adults 21 and over to possess up to one ounce.

A Public Policy Polling survey released this week shows the initiative leading, although not with a majority. In the poll, 47% of voters said they're currently inclined to vote yes on the measure, with 39% saying they are opposed.

A similar initiative is poised to make the ballot in Colorado, having handed in four times the number of signatures it needed for its final push, while legalization initiative signature-gathering campaigns are underway in California, Michigan, Missouri, Montana, Nebraska, and Oregon.

Drug War Issues Marijuana Industry - Marijuana -- Personal Use
Consequences of Prohibition Crime & Violence
Politics & Advocacy Marijuana Legalization Supporters - State & Local Executive Branches - Ballot Measures

printer friendly version | e-mail this article | return to table of contents

<hr>5. LEAP URGES CANADA TO REJECT HARSH CRIME BILL http://stopthedrugwar.org/chronicle/2012/feb/23/leap_urges_canada_reject_harsh_c

Law Enforcement Against Prohibition (LEAP) has intervened in the debate over the Canadian government's crime bill. The group, composed of current and former members of law enforcement and other criminal justice professionals, sent a letter last Wednesday to Canadian parliamentarians, warning them of the consequences of adopting a harsh approach and urging them to instead regulate and tax marijuana.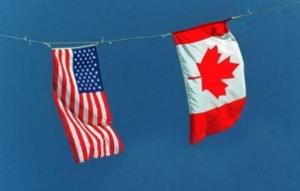 The pending crime bill, C-10, has already passed the lower chamber of the parliament and is currently before the Senate. The bill would impose mandatory minimum sentences for a number of offenses, including growing as few as six marijuana plants.

"Through our years of service enforcing anti-marijuana laws, we have seen the devastating consequences of these laws. Among the greatest concerns is the growth in organized crime and gang violence. Just as with alcohol prohibition, gang violence, corruption and social decay have marched in lockstep with marijuana prohibition," the LEAP letter said.

LEAP is not alone in opposing the Tories' crime bill. It is also opposed by the New Democrats and the Liberals. Earlier this month, four former British Columbia attorneys general called for marijuana legalization, and days later, the national chief of the Assembly of First Nations criticized the bill. Chief Shawn Atleo said aboriginal peoples with drug problems needed intervention and rehabilitation, not incarceration.

So far, though, the Tories aren't listening to LEAP or anyone else. Responding to the LEAP letter, Canadian Justice Minister Rob Nicholson said he was unswayed.

"We develop our criminal law legislation looking at the experiences from around the world, from Britain and other countries," Nicholson said at a news conference Wednesday in Regina. "But again, ours is a Canadian solution to Canadian issues and we make no apology for that."

Nicholson also defended mandatory minimums and said the crime bill sends the right message.

"Over the years there has been introduced mandatory penalties by different governments. I think there's about 40 of them in the criminal code, so they're nothing new to this government," he said. "But I believe they send out the right message to individuals that if you start bringing, for instance, drugs into this country, if you're into the business of trafficking, there will be a price to pay and you'll be going to jail."

Although the Conservatives control the Senate, the bill isn't passed until the bill is passed. Organizing against it continues.

Drug War Issues Marijuana Industry - Marijuana -- Personal Use - Mandatory Minimums
Politics & Advocacy Canada

printer friendly version | e-mail this article | return to table of contents

<hr>6. INCB ATTACKS BOLIVIA ON COCA STANCE http://stopthedrugwar.org/chronicle/2012/feb/28/incb_attacks_bolivia_coca_stance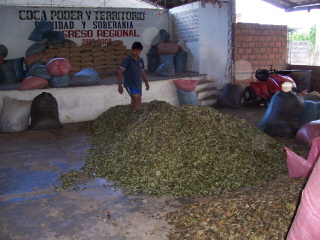 Drying the leaves in the warehouse. The sign reads ''Coca Power and Territory, Dignity and Sovereignty, Regional Congress 2006-08'' (photo by the author)

In its 2011 Annual Report, the International Narcotics Control Board, which monitors the implementation of international drug control treaties, has attacked Bolivia over that country's effort to defend the traditional uses of the coca plant. The INCB "noted with regret" that Bolivia had withdrawn from the 1961 UN Single Convention on Narcotic Drugs because the treaty considers coca a drug and rejoined the treaty in January with a "reservation" saying it would not honor the portion of the treaty dealing with coca.

Coca is the plant from which cocaine is derived, but Bolivians have been using the coca leaf for thousands of years and consider it part of their national patrimony. Bolivia is the third largest producer of coca and cocaine, after Peru and Colombia.

Under the treaty, the other countries that are signatories have one year to consider Bolivia's reservation. Unless one-third of them -- 62 countries -- object, the reservation "shall be deemed to be permitted." That would mark the first chink in the armor of the UN anti-drug conventions, the legal backbone of global drug prohibition.

The INCB said it was "concerned that, while the denunciation itself may be technically permitted under the Convention, it is contrary to the fundamental object and spirit of the Convention." If other states were to follow Bolivia's "unprecedented" rejection of portions of the treaty, "the integrity of the international drug control system would be undermined and the achievements of the past 100 years in drug control would be compromised," the INCB said.

But the INCB's attack on Bolivia did not go unchallenged. In a joint press release Tuesday, the Transnational Institute (TNI) and the Washington Office on Latin America (WOLA) slammed the INCB for its "stubborn combination of incompetence and overreach." The board's harsh response "begs the question of why the board is so afraid," the groups said.

"Why does the board consider the international drug conventions to be so fragile?" asked WOLA senior associate John Walsh. "How do one country's legitimate efforts to reconcile its treaty obligations with its own constitutional requirements represent an existential threat to the entire system in the eyes of the INCB?"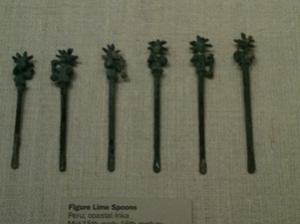 lime spoons, coastal Inka, Peru, mid-15th to 16th century, Metropolitan Museum of Art

"The INCB operates under a completely misplaced and self-inflated sense of infallibility that they apparently believe absolves them of any responsibility to base their inquisitorial judgments on rational arguments," said Martin Jelsma, coordinator of TNI's Drugs & Democracy program.

The two groups noted that a stance such as the one Bolivia is taking is legal under the convention and cited the official commentary on the 1961 Single Convention: "A Party may reserve the right to permit the non-medical uses as provided in article 49, paragraph 1, of the drugs mentioned therein, but also non-medical uses of other drugs, without being subject to the time limits and restrictions provided for in article 49."

"The INCB response is another clear sign that the UN drug control regime is under strain and that the cracks in the so-called 'Vienna consensus' are approaching a breaking point," said Jelsma."It is a sign that its principal guardian, the INCB, is in distress and no longer capable of responding to challenges in a rational manner."

Drug War Issues Coca
Politics & Advocacy The Drug Debate - United Nations

printer friendly version | e-mail this article | return to table of contents

<hr>7. MEDICAL MARIJUANA UPDATE http://stopthedrugwar.org/chronicle/2012/feb/29/medical_marijuana_update

Medical marijuana is making news all around the country, from city halls to federal court houses, not to mention dispensaries and patients' homes. Let's get to it: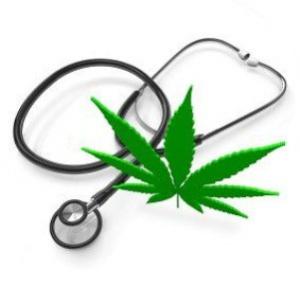 Alabama

House Bill 25, the Michael Phillips Compassionate Care Act, is back. Sponsored by Rep. Patricia Todd and backed by Alabama Compassionate Care, the bill would allow qualifying patients or their caregivers to possess up to 2 ½ ounces of usable marijuana and six mature and six immature plants. It would also provide for compassion centers where patients could obtain their medicine. Patients would be registered with the state. The bill has had its first reading and awaits action in the House Health Committee.

California

Last Tuesday, the Orland City Council voted to ban dispensaries, collectives, and collaboratives. The ban prohibits medical marijuana distribution facilities from the city, whether they are fixed or mobile, and says no permits or licenses will be issued for that purpose. The ordinance also prohibits patient grows within 300 feet of any hospital, church, school, park or playground, or any other area where large numbers of minors congregate, and imposes other limitations on patient grows.

Last Thursday, the California Second District Court of Appeal issued a decision affirming the legality of storefront dispensaries and rejecting the contention that every member of a collective must participate in cultivation. In the case, People v. Colvin, the state had argued that all members of a collective must do just that, but the court demurred, saying that "imposing the Attorney General's requirement would, it seems to us, contravene the intent of [state law] by limiting patients' access to medical marijuana and leading to inconsistent applications of the law."

Also last Thursday, a ballot initiative was launched to overturn a Costa Mesa ordinance banning collectives and cooperatives. The move is spearheaded by former collective operator Robert Martinez, whose Newport Mesa Patients Association, was one of 27 facilities that were shut down by federal officials at the behest of the City Council and city attorney last month.

Also last Thursday, a Vallejo dispensary operator pleaded not guilty to felony state drug charges. Matt Shotwell, owner of the Greenwell Cooperative, was arrested last Tuesday after a joint state-federal raid and faces multiple counts of trafficking, cultivating, possessing and maintaining a place for unlawfully providing marijuana. Vallejo police said last Wednesday they had asked the DEA for help in cracking down on the city's 24 dispensaries. At the same time, the city is getting ready to implement a voter-approved tax on all dispensaries next month.

Last Friday, Assemblyman Tom Ammiano (D-San Francisco) filed a bill that would create a statewide medical marijuana regulation system. The bill, Assembly Bill 2312, got a first reading Monday. It could get a committee hearing March 27.

This week, three more bills pertaining to medical marijuana have been introduced:

Assembly Bill 2465, introduced by Assemblywoman Nora Campos (D-San Jose), would require all medical marijuana patients to obtain a state ID card and also register the address where they are growing it. California NORML called the bill "blatantly unconstitutional" because it abridges the fundamental right of patients under Proposition 215.

Assembly Bill 2365, introduced by Assemblyman Brian Nestande (R-Palm Desert), would require that family courts consider parents' documented use of prescribed controlled substances, including medical marijuana and narcotic maintenance medications, in child custody proceedings. At present, the family code does not explicitly address these issues, although they are frequently brought up in family court proceedings.

Assembly Bill 2600, introduced by Assemblyman Chris Norby (R-Fullerton), would prohibit the DMV from revoking a person's driving privileges for simple possession of one ounce or less of marijuana. At present, an automatic revocation of license is required for conviction of any drug offense where a motor vehicle is involved.

On Tuesday, the federal prosecutor for the Central Valley vowed a new crackdown on large medical marijuana grows. Benjamin Wagner, US Attorney for the Eastern District of California, said his office is not interested in prosecuting sick people using medical marijuana. But he warned that the "unregulated free for all" that has allowed marijuana growers and merchants to make fortunes must come to an end, and he said in the coming months a new focus will be made on pot farms in the valley.

Also on Tuesday, a federal judge in Sacramento dismissed a dispensary's request for a permanent injunction blocking the federal government from enforcing the Controlled Substances Act. The suit had been brought by the El Camino Wellness Center and patient Ryan Landers.

Also on Tuesday, the Madera County Board of Supervisors gave first approval to an ordinance that would ban outdoor gardens and limit indoor gardens to 100 square feet. The patient would also have to own and reside at the property. There are other restrictions as well. A final vote is set for March 13.

Colorado

On Monday, federal agents were dispatched to ensure that 23 dispensaries too close to schools had closed. US Attorney John Walsh had given the dispensaries 45 days to close or move because they were within 1,000 feet of schools. The 1,000-foot rule is a federal sentencing enhancement, not a requirement of the state medical marijuana law. Local industry representatives said all the affected dispensaries had complied.

Also on Monday, a Colorado Springs TV station aired footage of a SWAT raid on the home of two medical marijuana patients, who charged police used excessive force. At least 13 SWAT officers raided the home, breaking down the door, and throwing a flash bang grenade. The two patients were not arrested because the marijuana they were growing was in compliance with state law. Police were not apologetic, but local activists denounced the raid as heavy-handed.

Idaho

A Boise-based group is collecting signatures to get a medical marijuana initiative on the November ballot. Compassionate Idaho needs 47,500 signatures by April 30 to qualify. The initiative has the same language as House Bill 370, but activists aren't counting on the legislature to act.

Michigan

On Monday, an Oakland County circuit court upheld a Bloomfield Township ordinance requiring medical marijuana patients to register with the township. Richard Roe had sued, claiming the ordinance is invalid under the state's medical marijuana law, but the court sided with the township. It ruled that the suit wasn't valid because Roe had not actually been penalized by the law. The ruling is the latest in a series of court decisions challenging local medical marijuana laws. Last December, a circuit court judge threw out a lawsuit filed by two persons challenging the medical marijuana laws of Birmingham and Bloomfield Hills using almost identical language.

New Jersey

On Sunday, state officials told the Wall Street Journal they didn't think medical marijuana would be available there until the end of the year at the earliest. State Department of Health and Senior Services officials said it had taken longer than expected to launch the program because opposition to dispensaries in towns and villages was more vigorous than anticipated, and setting up a highly regulated system with safeguards against theft and fraud has proved challenging. State Department of Health and Senior Services officials.

New York

The New York City Bar Association's committees on Drugs and the Law and Health Law issued a report approving of pending medical marijuana legislation in Albany and offering some suggested modifications, including that the state explore letting patients grow their own. The bills before the legislature, Assembly Bill 2774 and its Senate companion bill, don't do that.

Rhode Island

On Wednesday, the Rhode Island Patient Advisory Coalition reported that the state House and Senate have reached agreement on a bill that would make compassion centers a reality. Gov. Lincoln Chafee (I) had blocked the program after receiving threats from federal prosecutors, but Senate Bill 2555 is designed to ease his concerns.

Washington

On Tuesday, state prosecutors filed multiple charges against the owners of a medical marijuana dispensary in Lacey that had been raided in November. Dennis Coughlin, 68, and Jami Bisi, 50, the proprietors of Cannabis Outreach Services face 11 counts of unlawful delivery of marijuana within 1,000 feet of a school bus stop; 12 counts of unlawful use of a building for drug purposes; and two counts of unlawful possession of marijuana with intent to deliver within 1,000 feet of a school bus stop, according to their charging documents. They are the seventh and eight persons charged in a series of Thurston County raids on five collectives. The raids came after undercover police carrying medical marijuana recommendations made purchases at those locations. Washington's medical marijuana law does not explicitly provide for dispensaries.

Drug War Issues Medical Marijuana - Marijuana Industry
Politics & Advocacy State Courts - State & Local Legislatures - State & Local Executive Branches - Legal Community - Federal Courts - Executive Branch - Ballot Measures

printer friendly version | e-mail this article | return to table of contents

<hr>8. NAPOLITANO INSISTS MEXICO DRUG WAR NOT A FAILURE http://stopthedrugwar.org/chronicle/2012/feb/28/napolitano_insists_mexico_drug_w

Department of Homeland Security Secretary Janet Napolitano defended hard-line US drug policies and Washington's approach to prohibition-related violence in Mexico Monday even as Central American leaders prepare to discuss decriminalizing or legalizing the drug trade. Napolitano spoke in Mexico City, on the eve of a trip to Guatemala, where President Otto Perez Molina has recently led the call for a new model.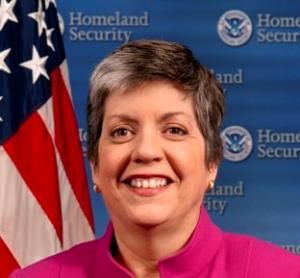 Janet Napolitano

Napolitano signaled continued support for Mexican President Felipe Calderon, who called out the army to fight the cartels in December 2006. Since then, despite numerous arrests or killings of major cartel figures, the trade continues seemingly untouched, and the death toll has climbed to more than 50,000.

In recent years, under pressure in Mexico, the cartels have also pushed into Central America, causing upticks in violence and increased trafficking activity throughout the isthmus.

"I would not agree with the premise that the drug war is a failure," Napolitano said in remarks reported by Reuters, among others. "It is a continuing effort to keep our peoples from becoming addicted to dangerous drugs."

Napolitano compared the so far fruitless hunt for Sinaloa cartel head Joaquin "El Chapo" Guzman to the search for Osama bin Laden. She said Mexico and the US would persevere until they got their man.

"It took us 10 years to find Osama bin Laden and we found him, and you know what happened there," Napolitano said. "This has to be handled in a somewhat different way. It's a different type of crime and it's a different type of plague, but that's also why it is so important that we act not only binationally, but in a regional way, to go after the supply of illegal narcotics," she noted.

Guatemala's Perez has a different idea. He wants a regional debate on drug policy, including discussion of legalization and decriminalization, and it looks like he will get his wish at a Central American summit in April.

"What we are putting on the table... although we know some are against it, is decriminalization," Perez said earlier this month. "We have to study the issue of production, the issue of transport and also consumption," he said at a separate event.

Drug War Issues Mexican Drug War
Consequences of Prohibition Crime & Violence
Politics & Advocacy Legalization - Decriminalization - Politics Outside US - Federal Government

printer friendly version | e-mail this article | return to table of contents

<hr>9. COLORADO TO VOTE ON REGULATING RATHER THAN PROHIBITING MARIJUANA http://stopthedrugwar.org/chronicle/2012/feb/27/colorado_vote_regulating_rather

And then there were two. Voters in Colorado will join voters in Washington in deciding whether to legalize marijuana after Colorado election officials Monday said the Colorado initiative had qualified for the ballot.


the ski town Breckenridge, Colorado (which voted for legalization in 2009)

According to the Colorado Secretary of State's office, the initiative to Regulate Marijuana Like Alcohol handed in 90,466 valid voter signatures; it needed 86,105 to qualify. The initiative campaign had earlier handed in more than 160,000, but fell about 2,400 short after election officials examined them. Under Colorado law, the initiative campaign had two weeks for a final push to make the ballot, and it gathered an additional 14,000 signatures then.

The initiative would amend the state constitution to legalize the possession of up to an ounce of marijuana and six plants by persons 21 or older. It would also direct the state Department of Revenue to come up with regulations for legal marijuana commerce by July 2013. It would also direct the General Assembly to set taxation rates, which could be no higher than 15%.

Driving while impaired by marijuana would remain illegal, as would possession by or sales to people under 21.

The initiative will appear on the November ballot as Amendment 64.

"This could be a watershed year in the decades-long struggle to end marijuana prohibition in this country," said Art Way, Colorado manager of the Drug Policy Alliance. "Marijuana prohibition is counterproductive to the health and public safety of our communities. It fuels a massive, increasingly brutal underground economy, wastes billions of dollars in scarce law enforcement resources, and makes criminals out of millions of otherwise law-abiding citizens."

"Supporters of rational marijuana policies everywhere should congratulate the residents of Colorado for placing this initiative on the ballot," said Rob Kampia, executive director of the Marijuana Policy Project. "Regulating marijuana like alcohol will create jobs, allow police to focus on more serious crimes, provide much-needed tax revenue, and will do a far better job of keeping marijuana away from children than the current system does. A majority of Americans recognize that the government's war on marijuana is an expensive failure and think that marijuana should be legal for adults. This November, Coloradans will get a chance to lead the nation by becoming the first state to end marijuana prohibition."

But perhaps just by a couple of hours. As noted above, a similar measure to legalize and regulate marijuana commerce is on the ballot in Washington. Signature-gathering campaigns for legalization initiatives are also underway in California, Michigan, Missouri, Montana, Nebraska, and Oregon.

"Never before has support for legalizing marijuana been so widespread or so out in the open. It is truly exciting that voters in both Washington and Colorado have a chance to make history this year," DPA head Ethan Nadelmann. "I'm confident Colorado can lead the way in ending the follies of marijuana prohibition in favor of a responsible framework of regulation and taxation."

Drug War Issues Marijuana Industry - Marijuana -- Personal Use
Politics & Advocacy Tax and Regulate - Spending Priorities - Marijuana Legalization - Ballot Measures

printer friendly version | e-mail this article | return to table of contents

<hr>10. CALIFORNIA BILL WOULD DE-FELONIZE DRUG POSSESSION http://stopthedrugwar.org/chronicle/2012/feb/26/california_bill_would_defelonize

California state Sen. Mark Leno (D-San Francisco) has introduced a bill that reduce the penalties for possession of controlled substance from a felony to a misdemeanor. The bill, Senate Bill 1506, would also eliminate felony penalties for hashish, removing from prosecutors the option of charges such offenses as felonies. Hash is currently a "wobbler," meaning it can be charged as either a felony or a misdemeanor.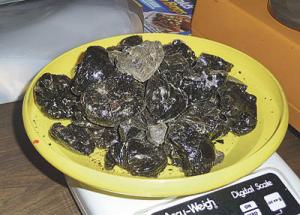 black tar heroin

The bill would apply not only to Schedule I drugs, such as heroin, LSD, and MDMA, but also Schedule II-V "narcotic" drugs, including prescription opioid pain relievers, such as Fentanyl and Oxycontin.

Under current California law, drug possession can garner a sentence of two or three years. The Leno bill would make possession a misdemeanor punishable by no more than a year in county jail.

Current law also requires a person who is convicted of a specified controlled substance offense to register with the law enforcement agency of a city, county, or city and county within 30 days of becoming a resident of that city, county, or city and county. The Leno bill would remove that requirement for those convicted of misdemeanor hashish possession.

While many people convicted of drug possession manage to avoid prison in California, thanks to probation or diversion to treatment, thousands of others do not. According to the California Department of Corrections and Rehabilitation's 2009 report on prisoners and parolees (the latest available), of the more than 28,000 drug offenders imprisoned in the state, more than 10,000 were doing time for drug possession alone, and 51 for hash.

The bill, which was introduced last Friday, has yet to be assigned to a committee.

Drug War Issues Sentencing
Politics & Advocacy State & Local Legislatures

printer friendly version | e-mail this article | return to table of contents

<hr>11. ANTI-METH PRESCRIPTION PSEUDOEPHEDRINE BILLS DEFEATED http://stopthedrugwar.org/chronicle/2012/feb/24/antimeth_prescription_pseudoephe

State level bills that would have required a prescription for popular over-the-counter (OTC) cold relief medications in a bid to make home methamphetamine cooking more difficult have run into roadblocks in several states this year. This week, prescription-only bills were killed in Oklahoma and withdrawn in Kentucky, and unhappy police and prosecutors are blaming the OTC industry.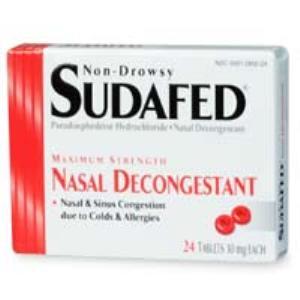 The bills in Oklahoma were House Bill 2375 and a companion measure in the Senate, while the bill in Kentucky is Senate Bill 50. They are aimed at "shake and bake" meth labs, which use small amounts of pseudoephedrine and other easily obtained products to produce small amounts of meth, typically a two-liter soft drink bottle.

"Shake and bake" meth cooks are being blamed for an increase in the number of meth labs reported in the last few years. According to an Associated Press report this week, the number of labs reported was up 8.3% in 2011 over 2010.

The OTC industry group the Consumer Healthcare Products Association has indeed lobbied mightily and spent heavily to defeat the bills, which would require prescriptions for such popular OTC medications as Sudafed, Claritin-D, Advil Cold & Sinus, which include pseudoephedrine, a key ingredient in the popular meth-manufacturing recipe. It isn't apologizing for its actions.

"We believe that requiring a prescription for these medicines containing pseudoephedrine will not solve this problem, but will only place new costs and access restrictions on law abiding Oklahomans who rely on these medicines for relief," association spokeswoman Elizabeth Funderburk told the Associated Press, "We have a shared goal in making sure these medicines do not end up in the hands of criminals, but we believe law abiding citizens should not be forced to bear the burden of a prescription mandate."

"The scare tactics used by the pharmaceutical companies have clearly worked," said Greg Mashburn, one of several district attorneys who urged Oklahoma lawmakers to approve the bill. "Shame on the pharmaceutical companies for knowing they're profiting off meth and pouring tons of money into this effort so they can continue to profit off of it."

But it wasn't just the cold medication trade association opposing the Oklahoma bills. State and local medical, pharmacist, and grocer groups also opposed the bills.

"You're making people come to the doctor for an office visit and pay a co-pay just to get a cold medicine," said Dr. Michael Cooper, a family practitioner in Claremore. "I already have patients who won't come to the office when they're sick because they can't afford the co-pay. We're going to clog the system and make things worse," he told the AP.

Now, it looks like in both Kentucky and Oklahoma, legislators will instead turn to bills requiring a real-time electronic tracking system for pseudoephedrine sales. In Oklahoma, such compromise legislation is underway, while in Kentucky, Sen. Tom Jensen (R), sponsor of SB 50, said he is working on compromise legislation, too.

"We've probably reached some consensus on where we want to go," Jensen told the Lexington Courier-Journal Thursday, but declined to discuss specifics of the compromise.

Similar bills are being considered in Alabama, Indiana, and West Virginia. Two states, first Oregon and then Mississippi, have already enacted pseudoephredrine prescriptions laws.

Oregon in particular has touted the success of its prescription law, but a study released this week by the Cascade Policy Institute scoffs at that claim. The report's findings are evidenced by its title, Making Cold Medicine RX Only Did Not Reduce Meth Use.

Drug War Issues Methamphetamine
Consequences of Prohibition Meth Labs
Politics & Advocacy State & Local Legislatures

printer friendly version | e-mail this article | return to table of contents

<hr>12. THIS WEEK'S CORRUPT COPS STORIES http://stopthedrugwar.org/chronicle/2012/feb/29/weeks_corrupt_cops_stories

A police chief popping pills from the evidence room, a sheriff slinging meth, and those are just the low lights. Let's get to it: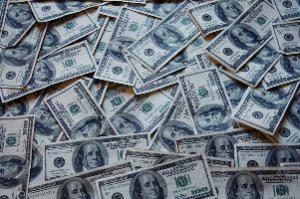 In Trumann, Arkansas, the Trumann police chief resigned Tuesday after an investigation found that he had been stealing drugs that were supposed to be destroyed. Chief Tony Rusher was given a "resign or be fired" ultimatum by the town mayor after an internal investigation found he had stolen between 500 and 600 prescription pills from the evidence room instead of destroying them after their cases had been closed. The investigation was sparked by complaints by Rusher's own cops. Rusher told a state investigator he "did not consider pills that had been through court as evidence" and that "these pills were going to be destroyed anyway." Rusher said he used more than a dozen Xanax, hydrocodone, and Percocet pills daily in addition to Ambien for sleep.

In Somerset, Pennsylvania, a Somerset Borough police officer was arrested last Friday for allegedly seeking a $500 bribe to make a marijuana charge go away. Officer Jason Michael Ponczek, 33, is charged with felony bribery in official and political matters and misdemeanor official oppression. On January 22, Ponczek responded to a residence in the borough after a neighbor complained, asked to enter and was invited inside. Ponczek and another officer found a small amount of marijuana and paraphernalia. Instead of arresting the person, Ponczek said he would wait 30 days to file charges and the person could earn leniency by becoming a snitch. The person did so, twice, and then, on February 16, Ponczek met the snitch and offered to make the marijuana charge go away for $500. At that point, the person contacted an attorney, who sent him to the state police, who investigated and arrested Ponczek.

In Shreveport, Louisiana, the former Winn Parish sheriff was convicted last Wednesday of participating in a methamphetamine distribution ring that included using his lover to sell the stuff. A.D. "Bodie" Little, 61, was one of 11 people indicted by a federal grand jury. A jury convicted him of conspiracy to possess 50 grams or more of meth with intent to distribute, possession of five grams or more with intent to distribute, using a communications facility to facilitate drug trafficking, as well as four counts of conspiring with a woman with whom he was alleged to have had an affair. He faces up to life in prison and a $10 million fine.

In Castle Dale, Utah, a former Emery County sheriff's deputy pleaded guilty last Friday to multiple charges related to an apparent serious pain pill problem. Clayton Rue Bell entered guilty pleas to seven felony counts and one misdemeanor, including four counts of burglary, one count of falsely obtaining a prescription, one count of possession of a firearm by a restricted person, one count of theft, and one count of DUI. Bell, 29, was arrested in October after breaking into the evidence room to steal prescription drugs, something he confessed to having done repeatedly. Then, in December, Bell crashed his pickup truck and a paramedic found a box filled with prescription drugs. The next day, Bell's own mother caught him inside a home looking for pills and called police. In exchange for Bell's guilty pleas, prosecutors dropped six more felonies and three more misdemeanors. He was sentenced to 90 days on the DUI, and the remaining charges are being held in abeyance, so if he's a good boy for a year, they will vanish.

In Gaston, North Carolina, a former Cleveland County sheriff's jailer pleaded guilty Monday to charges he smuggled drugs into the jail. Michael Scott Bumgardner went down after the sheriff's undercover narcotics officers heard he was smuggling cigarettes and pills. They set up a buy from him in the jail parking lot, then found more pills -- oxycodone and hydrocodone -- on him when he was arrested upon returning to work. He copped to possession with intent to manufacture and deliver a controlled substance and delivery of a controlled substance. He will do five to six months in prison.

In Piscataway, New Jersey, a Piscataway police officer was sentenced last Wednesday to three years in state prison for stealing cocaine from an evidence room he controlled. Albert Annuzzi, 47, copped a plea to official misconduct and must serve two years before he is eligible for parole. He said he took the drugs for his personal use, taking advantage of his position as evidence room supervisor. He was a 22-year veteran of the force.

Drug War Issues Police Corruption

printer friendly version | e-mail this article | return to table of contents

<hr>13. THIS WEEK IN HISTORY http://stopthedrugwar.org/chronicle/2012/feb/29/week_history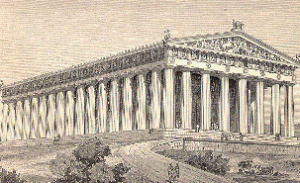 March 3, 1905: The first Congressional anti-drug law is passed when the US colonial government prohibits opium in the Philippines.

March 6, 1907: Gov. James Gillett signs the Poison Act Amendments, launching California's war on drugs.

March 1, 1915: The Harrison Narcotics Act goes into legal effect, beginning federal prohibition of drugs.

March 4, 1992: George Bush's White House has bureaucrats terminate the federal government's Compassionate Investigational New Drug (IND) medical marijuana program, barring even approved patients from receiving marijuana and allowing only a small handful already receiving it to continue.

March 1, 1999: The advice columnist Abigail Van Buren in her popular column "Dear Abby" says: "I agree that marijuana laws are overdue for an overhaul. I also favor the medical use of marijuana -- if it's prescribed by a physician. I cannot understand why the federal government should interfere with the doctor-patient relationship, nor why it would ignore the will of the majority of voters who have legally approved such legislation."

March 1, 2004: The State Department releases its annual International Narcotics Control Strategy Report (INCSR) revealing that Afghanistan produced a larger poppy crop in 2003 than ever before. Some 61,000 hectares of land were cultivated with poppy in 2003 -- up almost twofold from about 31,000 hectares in 2002.

printer friendly version | e-mail this article | return to table of contents

<hr>

StoptheDrugWar.org needs your support! Donations can be made online, by credit card or PayPal, and soon eCheck, at http://stopthedrugwar.org/donate or sent by mail to P.O. Box 18402, Washington, DC 20036-8402. Donations to Drug Reform Coordination Network are not tax-deductible. Deductible contributions supporting our educational work can also be made online, or checks can be written to DRCNet Foundation, a 501(c)(3) tax-exempt organization, same address.

Drug War Chronicle content is available for reuse under a modified Creative Commons Attribution license.

Articles of a purely educational nature in Drug War Chronicle appear courtesy of DRCNet Foundation, unless other