Not since the Chicago Bulls pulled off the coup of the century by grabbing Dennis Rodman has the Windy City and its teams been so well positioned for vast improvement. Are Derrick Rose and Jay Cutler getting help soon?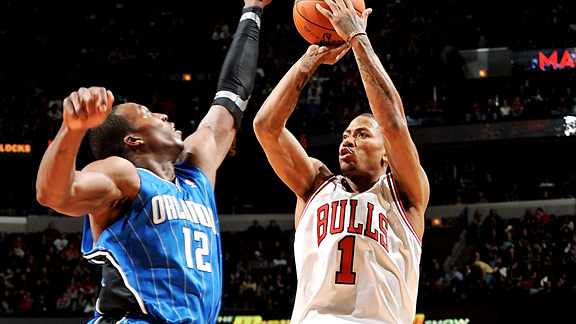 Bulls are smart to consider pairing Dwight Howard with Derrick Rose
The Miami Heat went to the NBA finals last season at the expense of the Chicago Bulls because LeBron James and Dwyane Wade joined forces. League MVP Derrick Rose did everything he could to carry his team but in the end the Heat had too much talent. So it stands to reason if Miami made such a bold move the Bulls should do the same. LeBron himself said Chicago was one star player away from being a championship team. That's why the talk of the league has center on whether the Bulls will make a serious effort to trade for Orlando Magic center Dwight Howard.
Such a move would cost the team a king's ransom in players and draft picks but glimmers with promise by forming the best point guard and center in the NBA on the same team. Some say it's a big risk, messing with a formula that got 62 wins last season but championship aren't won in the regular season. Dwight Howard is 28, freakishly athletic and has Finals experience. Tom Thibodeau is a special who has proven he can coach even the oldest veterans. Championships get won by superstars, and the Bulls can have two instead of just one.
Chicago Cubs showing their interest in Albert Pujols and Prince Fielder
No one can blame the Miami Marlins for offering a future Hall of Famer like Albert Pujols $200 million. He's won two World Series already and still is in his early 30s. However, another team in the midst of major changes is the Chicago Cubs. Under new kingpin Theo Epstein, the Cubs have already altered their philosophy by openly pursuing Pujols and fellow first baseman Prince Fielder. Epstein knows that success in the major leagues, much like the NBA, is built around star players. Albert Pujols is the obvious prize, but Fielder is a more realistic grab given he's 28 and entering his prime. Given the sizeable payroll and accomplished experience of Epstein, the Chicago Cubs could forge their postseason identity as early as 2012 free agency.
Chicago Bears poised for aggressive offseason to help Jay Cutler on offense
Three things might cheer up the woes of Bears fans watching their team falter from such a glorious winning streak. The loss of Jay Cutler and Matt Forte to injury has shown how vulnerable the Bears offense is. Should the team not win another game it does present a blessing in disguise. It might get Jerry Angelo fired, something desired by many. It will grant the team a higher draft pick and most important it will leave a great deal of cap space for the next general manager to go spending in free agency. Cutler and Forte could soon find help coming their way on offense. Chicago Bears faithful can hardly dream of such possibilities.
While Dwight Howard and Albert Pujols are fun thinking about, the truth is things are looking brighter for teams like the Chicago Bulls, Cubs and Bears. If purses are opening and a little cash spent, perhaps the Windy City is in store for a fun period in sports to come. No matter how one looks at it, Jay Cutler and Derrick Rose need help.