Bianca Jones vanished from the Detroit area this weekend, and like the cases of Sky Metalwala and Lisa Irwin, this one reeks of something foul. In the latest update to the investigation, it appears that the missing girl's father is being watched, and his home has been searched.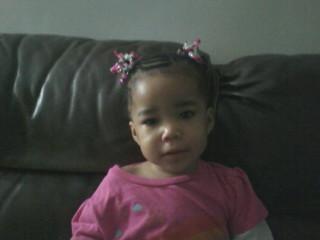 When Bianca Jones was reported missing by her father, he alleged that he was carjacked by two men. He says they stole the car with his daughter strapped in the carseat in the back. Police discovered the car less than 10 minutes after the child was reported missing, less than a block away. This was immediately suspicious.
D'andre Lane also failed a polygraph test, as was reported yesterday. When a parent of a missing child fails a lie detector test then there is nothing but suspicion to be cast in their direction. What did the man lie about? Why did he lie? What happened to his daughter?
Perhaps the polygraph test results are what led police to search the father's home. However, there have been no reports of any evidence found in their search. Hopefully something is figured out soon, and little Bianca Jones is found safe.
---~~*~~---
Chelsea Hoffman is the author of the controversial and sexually-graphic novel, "Ladykiller," and three others. Subscribe and contact her via ChelseaHoffman.Com! You can also circle her on Google+
---~~*~~---