Apples, peaches, pumpkin pie...
It's amazing how grandparents seem so young, once you become one. One day I was a mom, and the next day a grandmother. It's such an amazing role to play in their lives. I never knew love like this existed. It's a little bit like parenting, a little bit like teaching, and mostly just being a really kind friend. A grandchild fills a space in your heart that you never knew was empty. Funny how things that might have driven me nuts as a young parent, don't bother me with my grandchildren.
My oldest grandchild, Natalie (7) has her own email address and writes to me. Even though she only lives 5 minutes away, she doesn't visit as much as she and I would like. Therefore, she loves to write me little messages. A few weeks ago, she wrote "Mima, what are you doing today?" I told her I was going out to do some errands. Then she wrote again, and asked if she could come too.
Natalie: how are you doing
 
 
So I picked her up, and I let her sit in the front seat for the first time. She played with all the buttons within her reach... Click, click, click, click... turned on her own climate control to HOT, warmed up her seat, looked in her mirror, and played with the radio (loud, quiet, loud, quiet). She wasn't trying to be naughty, she was just curious. Next thing I knew, she exclaimed, "Look Mima, I'm taking a nap!" I looked over, and saw that she had reclined her seat as far as she could. I just found it amusing, and I laughed out loud. But as a young mother, I think it would have bugged me. I have finally learned to relinquish control, and just let life and love wash over me...
It's interesting the amount of patience one has at my age. Somehow, the things that weren't truly important have vanished from my sight. And what I see now, are all the possibilities. Not that I didn't when my kids were little, but I can now grace upon the things that I see as
really
important. They need to KNOW they are important. I'd like to think that when the grandchildren come to visit me, that they feel so welcomed, that they think I've been just waiting to hug them just one more time. I want to convey just how very precious they are to me, just by being alive.
Last weekend I went to my oldest grandson's (also age 7) pine derby race event with the Cub Scouts. Now it isn't like the cars that you ride in, but a tiny miniature car you build at home. There were lots of measurements and regulations to follow. The cars were raced repeatedly, and Orion's car zoomed at 154 miles an hour, over and over again! He was jubilant! The racing equipment was all hi-tech and computerized, which was very cool.


There were three large trophies for First Place, Second and Third. At the end, Orion's car was in 4th
place. As he watched the trophies being passed out, I saw a glimmer of tears forming in his sweet blue eyes. When a child I love is hurt, the pain is very contagious. It's amazing how quickly my eyes began to sting when I saw him begin to sadden. Before he could actually cry, he was handed a tiny little trophy. His gorgeous toothy smile returned, as he gladly said, "This is my first trophy!" Suddenly, it didn't matter that those other boys got huge trophies. He seemed so very proud. While we try to teach our grandchildren all about life, our grandchildren teach us what life is really all about.
Anjuli (5) is the "questioner" lately... "Mommy? Where does your eye skin go when you open your eyes?" Haha! I love it! "Eye skin!" (Eye lids) She's our little tomboy.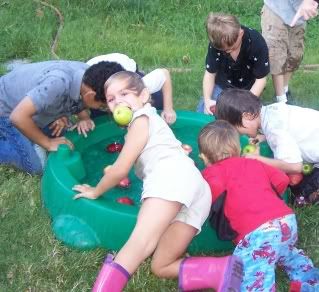 She has such pretty blond hair that curls at the ends, the kind of hair on expensive, pretty dolls... Well, she insists on getting her haircut just like her brothers. So as we speak, she has a little Mohawk! Ha! She's so darned cute, she can pull it off! Anjuli's curiosities are so pure, that being around her makes me feel young again.
Nathan (4) is becoming quite the talker. He was telling me about his other grandmother's recent trip. "Nanny flew far away, far, far across the ocean to a place called England. I know, because my mommy told me. There was food on the plane, so the people wouldn't die. If you don't have food, you die. Mommy told me that, too." He has no idea how charming he is! Haha! I can't help but laugh sometimes! But seriously, I feel one of the best gifts we can ever give to children is to truly listen to them. I can't spoil my grandchildren with gifts and treats, but I can give them my attention. They just need to be heard...


The gift of being a grandparent is that we can stop, drop and roll.. The everyday business of keeping it all together is gone. We can just stop what we are doing (most of the time), drop our schedules (most of the time), and let things roll, and enjoy the kids fully, and set them free... Moms and Dads don't have that luxury.
Now Eli (3), just fell out of his bedroom window. It's such a good thing they live in a single story home! He opened his window to shoo away a neighbor's cat that was eating his kitty's food. He leaned onto the screen, it popped open, and down he went onto a sidewalk below. I haven't seen his wounds, but his mother told he he's all banged up. He's got a huge goose-egg on his forehead with bruising, and a cut lip. Poor little guy! What a surprise! All I could think of to say was, "Well, he won't do that again!"


As a grandmother, I cannot protect them the way I did my own children. But I can learn to have faith, trust, and hope that they will survive and carry on the genes... I will die one day, but I will also live on, at the same time. The history of me will live on for awhile through my traditions, experiences, writings, recipes and stories, and so will my genes. Pretty cool. I am now immortal! Kinda...
Our newest addition, is Victoria. She's just 7 months old. She is traveling all around the house by rolling... Crawling is right around the corner... They find her under the coffee table a lot. Ha! This is probably the happiest, sweetest baby, ever. She never cries! She smiles at everyone she sees, whether she knows them or not! Her smile shows just her two little teeth... Precious.


I rocked her to sleep in my arms recently, and I can't think of anything more beautiful. Let's face it, when a baby falls asleep in your arms, it's an honor. To actually fall asleep in someone's arms, means that one trusts another. Babies bring such joy. They are born to be loved and never outgrow it.
A grandmother is just an antique little girl, really. We still like to chat, tickle, play "peek a boo," tell "knock knock" jokes and have tea parties. I may be old-ish on the outside, but I'm still young on the inside, where it really counts. The responsibilities of parenting are gone (for the most part), and the enjoyment of the the child is what matters most. They are such treasures to my heart, that I never knew were coming! I love the babies... I so love the babies!