After all of the stunting and scamming, reality stars Tareq and Michaele Salahi are getting a divorce. According to Eonline, Tareq filed for divorce from his wife last Friday. Tareq has accused Michaele of having an affair with guitarist Neal Schon.
TMZ reports that in the divorce papers Tareq stated that he filed a missing person report when his wife didn't come home. He said he thought she had been kidnapped.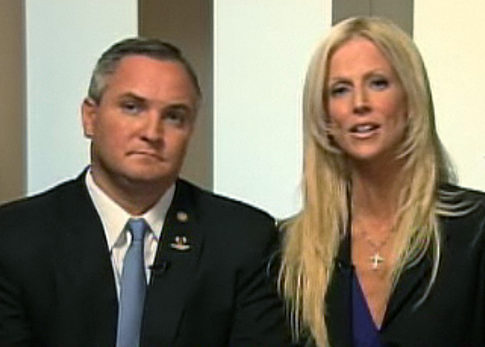 The reality star found out later Michaele, his wife was with Neal and for that reason he has filed for divorce.
The Salahis both appeared on Bravo Tv's reality series Real Housewives of D.C. They were mostly famous for breaking headlines news when they crashed the White House state dinner party in 2009. They both claimed to have been invited and had tickets but they didn't provide any proof. During the court process they declined to answer any questions by taking the fifth amendment.
On the first season of RHODC, the cast members were leery of the Salahis. Often they showed signs of suspicions but no one could figure them out. If Michaele did have and affair she probably took her co-stars advice about Tareq, who appeared to be overly aggressive and controlling while on the show. The Salahis were also in extreme financial debt, but they pretended to have millions!
Michaele used Tareq for all he was worth at that moment. She said she use to model and since she's not she had to maintain her lavish lifestyle. As soon as she's done with Neal she will be on to the next!