Will We Be Able to Deflect an Earthbound Asteroid?
Natalie Wolchover
Life's Little Mysteries
Wed, 17 Aug 2011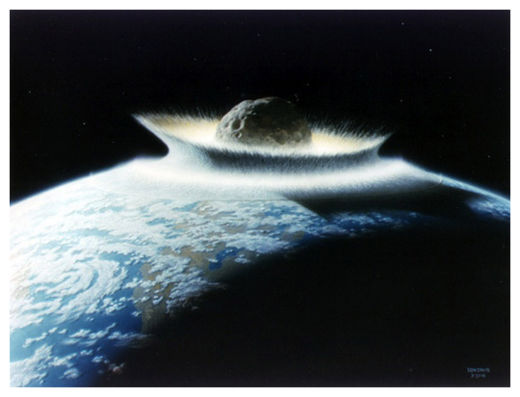 © Don Davis / NASA
Artist's concept of a catastrophic asteroid impact with the early Earth.
 An impact with a 500 kilometer (310 mile) diameter asteroid would effectively sterilize the planet. The Earth may have experienced such gigantic impacts in its youth, but fortunately today there are no projectiles this large to threaten our planet.

For any single human being, there are bigger things to worry about than death by space rock. For the long-term survival of humankind, on the other hand, asteroids pose a real danger.

A 6-mile-wide asteroid that struck off the coast of present-day Mexico 65 million years ago induced ecological changes that wiped out the dinosaurs. Inevitably, an Earth-shaking chunk of space debris will strike again.

However, so many earthly worries exist that a cosmic one which, at any given moment, is infinitesimally small doesn't garner much attention - or government funding. Several scientists who study asteroid hazards agree: Humankind probably won't start readying its planetary defenses until we know the danger is real. We'll need evidence that a large asteroid is actually headed here.

Will it be too late by then?

It depends. "Human beings can solve any technical problems that are put in front of us," said Daniel Durda, senior planetary scientist at the Southwest Research Institute in Boulder, Colo., and an expert on asteroid collisions. "It's the social and political issues that we struggle with." Rusty Schweickart, former NASA astronaut and founding member of the B612 Foundation, a nonprofit organization dedicated to protecting the Earth from asteroid strikes, concurred: "The geopolitical realities are daunting. The technical issues are easy by comparison."....                  ==>