Nearly 78 minutes into the match, France had fans of the U.S. women's soccer team thinking the World Cup Final was drifting out of sight. By minute 79, Abby Wambach put the stamp on the American ticket to face Japan for the championship.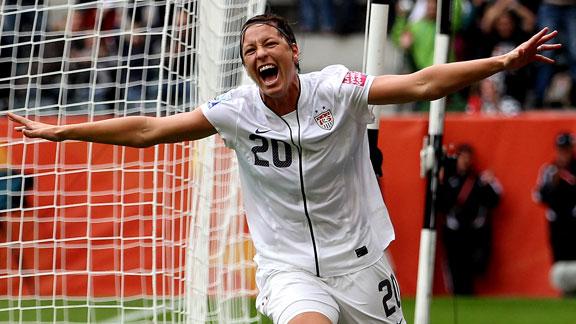 Hope Solo holds off France long enough for U.S. to rally
The French women showed exactly why they defeated England, penetrating the American defense repeatedly with impressive ball skill. For the game, they outshot the U.S. 25-11. The game had 'rout' written all over it. The problem was, the U.S. have Hope Solo. The best goalkeeper in the tournament played her best game of the tournament by surrendering only one goal to a team that scored four in their quarterfinal match. Her brilliant work allowed Abby Wambach and the American offense to gain enough traction to go on the attack. French ball skills proved not enough against the spirit of the U.S. women, who scored two late goals to send France home.
Japan upset streak continues with defeat of Sweden
One can't help but wonder if the U.S. women's soccer team can stop the freight train that has already run over two of the best teams in the tournament. Days after ousting the defending champions of Germany, the Japanese women rolled over the only team to beat the Americans thus far in Sweden. Perhaps no team has more to play for than they. Their country has endured so much over the past months since a devastating earthquake sent powerful tsunami waves crashing across the Japanese coasts, wiping out entire villages and killing thousands. The nation is in desperate need of good news and a victory in the World Cup Final is the perfect antidote.
Match against Japan won't be any easier
The U.S. women can't and won't step aside in spite of their sympathy for the island ally. They're playing to win the championship, to shake the ghosts of the 1999 team that beat another Asian powerhouse in China. Hope Solo and Abby Wambach provided the leadership and big plays to show their resolve. Now they must overcome one last, determined opponent to claim their crown.