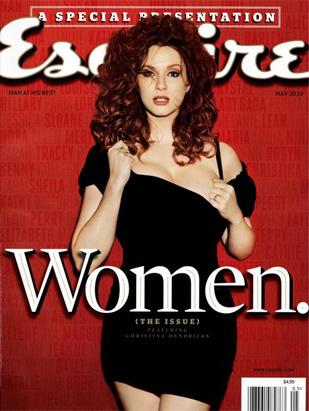 "Mad Men" actress Christina Hendricks was named "Best-Looking Woman In America," by Esquire magazine and man does she look HOT on the cover! Over 30% of the 10,000 women surveyed chose Hendricks over Megan Fox, Adriana Lima, Jessica Alba, Zoe Saldana, Michelle Obama, and LOL: Zac Efron!
Parts of her interview reveal that she dislikes men on Facebook, loves the way her husband smells, and she likes a man who orders scotch... hmmm, my take on why the she recieved such a large portion of votes from the American women surveyed is that her body is more natural looking as in she's meaty, she's like the what the average woman sees in the mirror. She's not a thin stick that media  tells us all is beautiful... honestly though I think Adriana Lima is the hottest on that list, sorry Zac Efron.
What I wanna know is why did Esquire change her look so drastically for the cover? I mean women chose her because of the way she normally looks, right?
According to chacha.com, Christina Hendricks' measurements are 36', 32', 36' and she's 5'8 with 36DDD boobs. WOWWWZAAA!!! I don't watch Mad Men but I should give it a try, it gets great reviews and I think it's on AMC, which is the same channel one of my favorite dramas is on: Breaking Bad.
 
SOURCE: Christina Hendricks: A Letter to Men

*********************************************************************
photo credit: ESQUIRE
*********************************************************************