And the winner of People's Sexiest Man Alive 2009 is none other than Johnny Depp. Captain Jack Sparrow ranks above many of the others who women might find sexy including Twilight's Robert Pattinson, Hugh Jackman and Matthew McCounaghey. Many fans are of course buzzing about this and wanted Edward Cullen (Robert Pattinson) to take home the prize. As of yet the young vampire movie star has yet to earn the title. See the new special double issue cover below, which also features Sarah Palin and Taylor Swift inside...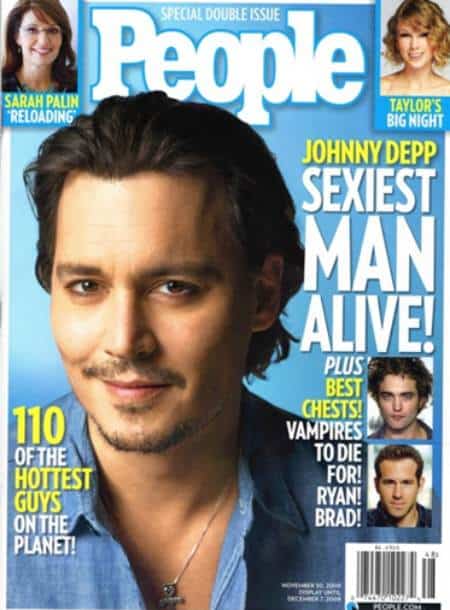 (Image source: People magazine 2009)
This is Depp's second time as the sexiest man alive for People magazine. He earned the honor back in 2003 as well. Also on the list of 16 sexy males this year are Bradley Cooper, Robert Downey Jr., and the Glee boys.

Feel free to share your comments below on this year's People's Sexiest Man Alive 2009. Do you feel Robert Pattinson deserved the top spot for 2009? Or will he swoop in to take it for 2010?