This semester I'm taking a course entitled "Culture of Japan". I'm really enjoying it because I'm passionate about Japan and a lot of the material we've covered but there's a lot I didn't know. We had our first quiz today and though I knew everything on it (I was quoting from the book during the quiz and lecture) he didn't give the class adequate time to finish and half the class wasn't done when he was finished. I didn't finish answering two and the other he may have taken off because I was almost done when he took my paper. IMO if half the class or a couple of students raise their hands that they're not done, they should be given time to finish. Granted when he asked for answers after the quiz I knew everything and gave clear concise answers...I just didn't have enough time. That and a girl behind me kept making snide remarks during the quiz and class (grr...sorry I just had to rant).
- - - - - - - - - - - - - - - - - - - - - - - - - - - - - - - - - - - - - - - - - - - -
Japan's always been a passion of mine. In fact, last semester I taught a 30 minute session on Japan and got a lot of applause from my peers. I love the food (I adore sushi), the culture (I own a kimono), their system (lower crime rate, better education system, more safety than the US...), what they've given us (electronics, video games, manga, anime, art) and the language. Japan is of course not without it's problems (high suicide rates, high expectations and what you do in your childhood through college impacts the rest of your life etc). So I wanted to dedicate a couple of blogs to looking at the culture, languge and just Japan in general. So firstly, I wanted to take a look at some overall facts, trivia, Japan knowledge and end with two book resources (I'll add more with every post).
History & Geography
Japan is generally divided into three historical Periods
-Classical/Edo (or Feudal) which is the time before 1868. In 1868 the Samurai class and Tokugawa Shogunate fell
-Meiji restoration-Japan repairing itself after the fall of the Tokugawa which leads into World War II when Japan captures most of east asia and starts to conquer China, then a bomb is dropped in Hiroshima and later Nagasaki.
-Modern Japan-1945-present. Japan is in a dire state at the end of WWII and the US aids them in their recovery. Then around the 1970's Japan starts to gain ground and now has a fairly solid economy, high education merits, and the highest longevity of any country (though they've seen their share of recession)
Geographically Japan is made up of four main islands. The top Island is Hokkaido then the long island is known as Honshu. At the base end on the west of Honchu is a big island called Shikoku. The last big island is Kyushu.
Far to the south of Kyushu is Ryukyu or better known as Okinawa. There is some dispute over it as some don't consider it 'Japan'. The Kuril islands to the north of Hokkaido are in dispute between Japan and Russia but is currently occupied by Russia (did Japan have it before their conquests in WWII or after is the debate).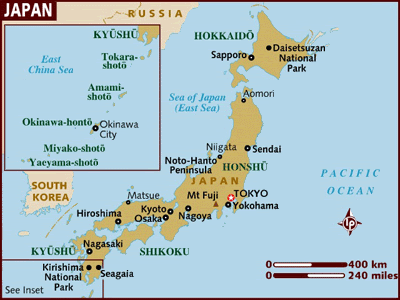 Language
In Japan, there are three 'systems'. The first one is Hiragana and is the one children learn first. The second is Katakana which is used for foreign-borrowed words, translations (like names) etc. The last system is Kanji and there are 1,945 the Japanese are expected to learn (they are borrowed japanese characters)
There are 46 phoentic symbols in Hiragana and Katakana
Of the 1,945 Kanji, children are expected to learn the first 1,000 in 1st through 6th grade (my professor let us look at the workbooks, not hard if you know hiragana ;)
The other nearly 1000 are learned through 7th into high school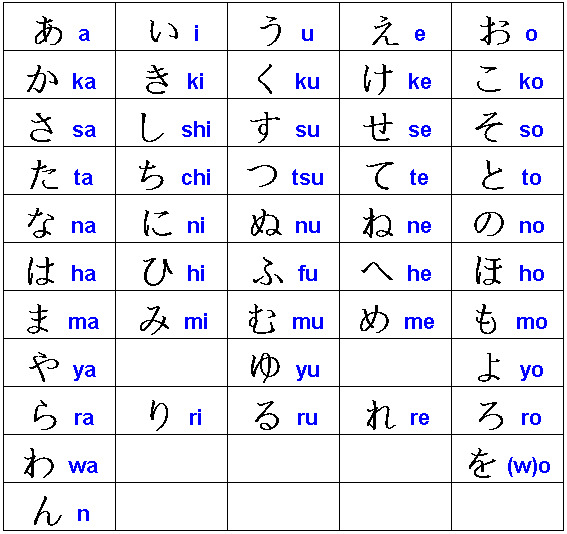 (Hiragana table)
Food
Here's some common Japanese dishes and ones that I have tried. Yes, the Japanese do eat a lot of rice and noodles as well as seafood
There are american fast food chains in Japan like Baskin Robbins, Mcdonalds, Pizza Hut etc. However the menus are different for example mcdonalds offers fried rice as a food option.
Not BLT's just BST's or Bacon Seaweed Lettuce
Sushi-yes it's my favorite food but not all of it's uncooked. I personally prefer the cooked (or california rolls) but I don't mind the uncooked sorta. Don't worry, I won't go into detail
Miso Soup-it has seaweed and it's more like a broth. It's quite good and you can add different things to it.
Potstickers-even if you don't like oriental food, this is really good. They're like dumplings
Taki-or fried octopus, yummy (I don't like octopus myself and squid just has no taste to me)
(Miso Soup)
Some random Tidbits
Japanese students have to take seven years of english
The first capital of Japan was Nara (near Kyoto) and was for 85 years before being moved to Kyoto. After 1868 it was moved to Tokyo where it currently is.
Most Japanese practice both Shintoism and Buddhism. For example they have Shinto weddings and Buddhist funerals
The Japanese read right to left as opposed to left to right (I'm used to it by now, it's just a little different at first)
Great Reading Material
"Confucius Lives Next Door" -T.R. Reid- At first I thought it'd be soley a philosphy book on Confucius and after two chapters that's not the case. A great read if you want to get to know more about Japan (though it was written in the late 90's...)
"Langenscheidt's Pocket Dictionary Japanese/English English/Japanese" -I've owned my Japanese dictionary for around 5 years and it's a great dictionary and resource. Langenschedits just puts out some great dictionaries.