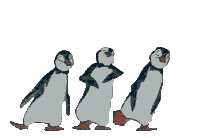 Jessica, my youngest, who reads Gather but never EVER posts or comments, just called to tell me that I needed to post penguins.
She finally heard from the people re: her dream job.
She heard about the possibility of working as a youth counsellor on cruise ships while she was in school and decided that that was what she wanted to do.
She graduated. She got her passport. And she applied.
And heard nothing. For what seemed like forever.
Her very mean mommy made her go back to her old summer job as a ride op at Canada's Wonderland - most cuz she has rent  student loans to pay, and her very mean mommy is only working part time this summer and has enough bills of her own .... so Jess applied and got her old job back.
But she still very, very, very much wants to go work on a cruise ship. A Disney cruise ship, in particular.
So - eventually, she heard back from the recruiting person - she would receive a phone call in May to set up an interview in June.
Except she didn't.
This week, she emailed the woman again - and was told that someone else was now handling the recruiting for Disney.
She was a ~tad~ discouraged, but we sent off her resume to the new guy yesterday and she got a call today.
Had a phone interview and made it through that okay, even though she happened to be on the bus on the way to work and was having trouble hearing.
Slight glitch over the question of visible tattoos, but seems that is okay. She has one on her lower calf - but Wonderland also has the same rules re: visible tattoos. Jess covers hers with pants, or with bandaids if need be. So that's okay.
And she has an in person interview on June 28.
She is very happy about it and thought she needed many penguins.
We are compromising with a few penguins today and many penguins when she gets her dream job.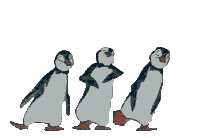 So .... dancing penguins for Jess!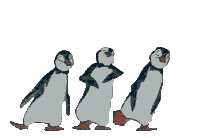 Wish her luck!