"Friends" is over but you wouldn't know it at my house. With our DVR, it's always 7:00 P.M. on "Must See TV night."
How long, by the way, do we have to wait until we are allowed to just download any show off of satellite TV? You can do that on the Internet for free if you want to watch some ads. Why can't I just go ahead, at 3 o'clock in the morning, and watch an episode of Herman's Head that I download for free with some ads that I can't skip through? And why is it always up to me to offer society these solutions to make life better? I've got other things to do, you know. So get to it, television providers: Come up with a way that I can simply order up your shows for free on my DVR whenever I want, and then let me do that.
In the meantime, I'll have to make do with the patchwork of options available through DVDs, the Internet, and my DVR. Sure, sure, between those I can pretty much see any TV show anytime I want, but I can't see any TV show anytime I want, plus I have to get up and put the DVD into the player. It's almost unbearable.
"Friends" was Sweetie's favorite show when it was on and is probably still in the top 5 now. So it gets recorded by our DVR (along side my shows, which include Three's Company, Invader Zim, nature shows about bugs, and "The Colbert Report," among others. We have it set to record 49 different TV shows.) (We don't get out much.)
I like Friends. It's no Battlestar Galactica, but it's all right. We were watching it the other night and the episode we had on was the one where Phoebe got married. I never cared for Phoebe. I thought they could write her out of the show and the show would improve. No offense, Lisa Kudrow, but your character was dumb. You shouldn't take offense at that because you were talented enough to sometimes make Phoebe fun, but not often enough to justify her continued existence on that show.
Phoebe got married to "Mike," who was played by a guy I always refer to as "Mike," since he was so successful at playing "Mike" that I now associate him with "Mike" forever. When "Mike" appeared in The 40-Year-Old Virgin (a much-overrated movie), I thought to myself "that's Mike." When "Mike" appeared in "Forgetting Sarah Marshall," I whispered to Sweetie "Hey, it's Mike."
In fact, I had to just google him to figure out who played "Mike," and I tried to Google him by typing "Mike on Friends." (Didn't work.) The fact that I had to Google him to remember who played him will serve as further proof that in addition to solving all of the real problems facing society (as I did above, with the TV thing, remember?) I also am insanely smart -- no emphasis on the insane part of that-- because I long ago said that I was subcontracting out my memory to Google, by which I meant this: because things are so easy to look up on computers and the Internet now, I no longer have to bother to remember things. I can just go Google them and remember them once I Google them. That leaves my mind free to concentrate on singing Meat Loaf's "Two Out Of Three Ain't Bad" while I help clean up after dinner. Loudly. (Singing loudly, not cleaning up loudly.)
I was right about that, too. I have subcontracted out my memory to Google and other computers. I no longer know my parent's phone numbers, for one thing. I tried calling my Dad from my home phone last night, and after three tries, I went and got my cell phone and hit "Dad" under contacts, and called him on my cell. Then, today, I had to Google to find out who "Mike" really was. You'll do it, too, if you don't already: you'll let your memory reside on computer chips and exist in a blissful state like I do.
It was Paul Rudd, by the way; Paul Rudd played "Mike." That knowledge is useless to me, since if I ever meet him, I'm sure I'll say "Hey, it's Mike."
This whole beginning was useless to me, and to you, too, since Mike's not even The Best Boyfriend on Friends. The Best Boyfriend On Friends was Richard. Richard was played by Tom Selleck, who's in no danger of being "Richard" in my mind, because Tom Selleck was already established as a personality in my head before he played "Richard."
Here's how it works: I associate anyone with the first time I see them. Everyone gets one image in my mind, and that image is yours forever. Let's call it "gilliganizing." I gilliganize everyone by associating them with the one indelible persona I have for them. So in Mike's case, the first time I saw "Mike" and got to know him as a character, he was "Mike." That's tough luck for Paul Rudd, who has gone on (in my mind) to play "Mike" in a variety of other contexts -- he was "Mike" the newscaster in Anchorman, too.
In other cases, the person establishes an identity as himself. "Tom Hanks," for example, is just "Tom Hanks." That works the other way, though: Everytime I see "Tom Hanks" in a movie, all I can think is Hey, that's Tom Hanks. So I rarely even remember his character's names. As I sit here, I can think of the name of only one character Tom Hanks has ever played. No, it's not The Terminal. It was "Forrest Gump." But when I watched "Forrest Gump," I didn't think of the character as "Forrest Gump." I thought of him as "Tom Hanks." I literally walk out of movies and refer to his characters as "Tom Hanks."
There is only one person who's never established a character or persona with me: Harrison Ford. For some reason, I don't think of him in his movies as "Harrison Ford," but I don't associate him with any one character, either.
"Tom Selleck" was "Tom Selleck" to me before he played "Richard" on Friends. He was "Tom Selleck" because I never watched Magnum PI, so I knew who he was but never saw him play a character.
As "Richard," Tom Selleck was The Best Boyfriend on Friends almost by default. There was such a collection of miserable boyfriends on that show, it almost seems like all along the writers were planning on having [SPOILER ALERT... BUT IS IT REALLY?] Rachel marry Ross and Chandler marry Monica. The only way that Chandler and Ross would seem like good catches is to have them be compared to the string of losers and geeks and weirdos and sex fiends that came before them.
Really. If you thought Sex and the City was out to make a point about how bad all men are, then you've never watched Friends closely enough. Italian guys who hit on their girlfriends' friends, that cop that shot a bird while lying in bed, a gay ice skater, a guy who moves off to Russia, a psychologist that hates everyone, Ben Stiller... these are the better prospects that I can remember. Remember "Mark," the guy who [SPOILER ALERT BUT, REALLY, COME ON, THE SHOW AIRED, LIKE 15 YEARS AGO, SO IF IT'S REALLY A SPOILER YOU ARE FURTHER BEHIND ON 'FRIENDS' THAN I AM ON 'LOST' BUT I AM HONESTLY VERY BEHIND ON 'LOST' SO PLEASE DON'T TELL ME WHAT HAPPENED AFTER MIDWAY THROUGH SEASON 2] secretly liked Rachel but wouldn't admit that he secretly liked her but was always trying to steal her from Ross? Who's idea of getting a girl to like him was violating office sexual harassment policies while breaking up a relationship? Wiiiiiiinnner. But he paled in comparison to "Tate Donovan," (Played by "Tate Donovan"), who [SPOILER... YOU KNOW THE DRILL] couldn't really commit to Rachel because he was just out of a relationship and also he had no clothes.
These guys are the best the writers could come up with. See what I mean about how they were setting up Ross [OKAY, THIS IS ALL REALLY JUST SPOILERS.] (nervous breakdown, multiple divorces, two kids with two different moms, dated a teenager) and Chandler (pretty much obviously overcompensating for his homosexuality) as reasonably okay husbands.
Against that backdrop stands Richard -- Tom Selleck -- tall and proud. He was not creepy, not a loser, not weird. Unless you count dating his best friends' daughter who was roughly 1/2 his age as creepy, loserish, and weird, but I don't because it was Tom Selleck doing it. Since Tom Selleck is not a creepy weird loser, pretty much anything he does is okay. That is, if Tom Selleck dates his best friends' daughter who's 1/2 his age, it's a cool thing to do. If, say, Spencer Pratt were to do that, it would be creepy, weird and loserish.
But even with the daughter dating, Tom Selleck was The Best Boyfriend On Friends because he had a job -- and a good one at that -- and he had his own apartment that was filled with actual furniture and not a canoe, and he had money and did not spend his day hanging out in a coffeeshop. Plus, he was just plain cool. He had that moustache and that self-deprecating grin and he was able to lean against the wall and just talk to Ross and still be comfortable while their girlfriends were arguing about who got the last condom, whereas Ross just looked like a dork during that talk. [I TOLD YOU IT'S ALL SPOILERS, SO IT'S YOUR OWN FAULT IF YOU READ THAT AND THE EPISODE WAS RUINED.]
Finally, Tom Selleck was The Best Boyfriend on Friends because his character was a real person, not just a "character" or collection of jokes. Of all the boyfriends on Friends, only he and "Mike" came close to that standard; most of the other boyfriends were there to keep things moving. They might as well have all been named "Plot Device." But Tom Selleck's character was 3-dimensional and interesting.
One of Kurt Vonnegut's rules for writing -- and I don't know if they really were his rules or just attributed to him -- was this:
Be a sadist. Now matter how sweet and innocent your leading characters, make awful things happen to them -- in order that the reader may see what they are made of.
That's the way to create real characters. Sweetie and I have an ongoing debate about the movie Juno. [THIS REALLY IS A SPOILER]. She thinks that Jason Bateman (sorry, that's his name to me) in that movie was a jerk. I think that he was pretty much one of the only two interesting characters in that movie and that a movie more about him and his wife ("Girl Who Was Alias") would have been more enjoyable and memorable and less like cotton candy, in part because Jason Bateman was either (a) a total heel or (b) a guy who realized too late that he was in danger or wrecking lives even more than he had and did the right thing.
I bring that up because Tom Selleck on "Friends" was similar to that. He loved Monica, and wanted to marry her -- but he didn't want kids and she did, and so they had to break up. Then he decided he did want kids and so now he could love her, but she was engaged and he'd blown it.
That was terrible. That was something terrible that happened to a guy that was otherwise sweet and innocent, etc., and it was one of the best story lines that "Friends" ever came up with; it was "Friends" at its pinnacle, which is high praise for a show that was mostly very good for a very long time.
So, sorry "Mike," but awfuller things happened to a nicer guy, making "Tom Selleck" The Best Boyfriend on "Friends."
 
 Click here to see all the other topics I've ever discussed!
Want a free t-shirt? Of course you do. Click there to find out how you can get one courtesy of The Best of Everything: Our Opinions Are Righter Than Yours.
 
Lesbian Zombies Are Taking Over The World is a serialized novel. It is first published at its own site, so if you want to keep up with the adventures of a lesbian zombie and her octopus in a timely manner, click that link.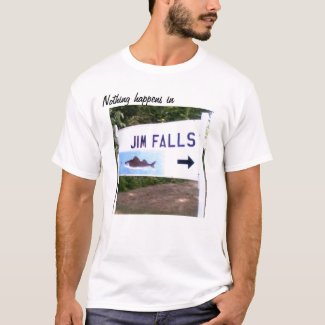 Jim Falls, WI
by
brianefp
Get this
custom shirt
at
Zazzle