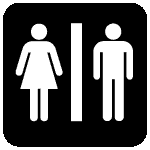 Have you ever been or used a "unisex" restroom? I know that there are many places where there is a "men's" room and a "women's" room and a single room for handicapped people of either sex (one person at a time) but have you ever seen or used a restroom for multiple people of either gender at the same time. The restaurant next to the Museum of Modern Art (or MoMA) is known as the "Modern." I went there early this year, along with my mother. After the meal we both went to the restroom and were asked where it was.
The room was a common room with sinks on one side of the wall. Instead of "stalls" there were a collection of rooms each with an individual toilet and lock and each with a MALE/FEMALE sign on the door. (According to a New York Times article on the web there are 6 cubicles there. I didn't count them at the time.) Aside from the strange novelty it really wasn't all that strange.
Has anyone else been to such places?