Book lovers still reeling from cutbacks at newspaper book sections have a new reason to be upset: Amazon.com is reducing space for book reviews too.
Amazon is cutting the number of book reviews displayed on its book product pages by half, outraging authors and many of the site's volunteer reviewers.
The change does away with Amazon's familiar one-column display of six reviews. Now just three reviews will be displayed in their entirety, followed by a link to other reviews.
The new display is being rolled out to Amazon's customer base over the next two weeks. Here's a peek (click to enlarge):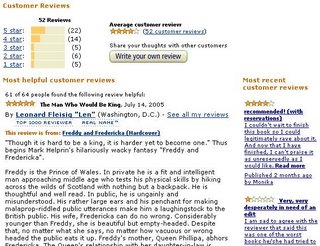 Another unpopular change: The new design is dominated by the three reviews voted "most helpful" by other shoppers. Traditionally, the most recent reviews were displayed first, along with a pair of "Spotlight" reviews. But with the new design, only snippets of some recent reviews will appear in a sidebar on the right.
Many of Amazon's most active book reviewers complain that most shoppers won't click through to read the newer reviews, reducing their chance of attracting votes. "This new design is a terrible disincentive to all reviewers, especially newer ones," said frequent reviewer Daniel Jolley. "It's just a fact that most users simply do not go beyond the first page of whatever they are pulling up online. You're effectively banning most reviewers from ever being on the main item page, even temporarily."
Jim Robinson, an Amazon employee who is guiding the update, defended the new design and said it was unlikely to discourage readership of recent reviews. "While designing the new review display, we gave this possible drawback a significant amount of consideration," Robinson said on this Amazon-sponsored reviewer discussion board. "Many aspects of the design, some visible, others less-so, are meant to keep this from happening. We will watch closely to make sure it does not become a problem."
It's clear that Amazon is trying to reduce clutter on its book detail pages. Shoppers must wade through dozens of features competing for their attention, such as author blogs, related books and advertisements. It seems another feature or two is piled on every year. Amazon recently reduced the amount of space devoted to its wiki and "customer discussion" features, which appear near the bottom of detail pages and are seldom used. Amazon is also adding a chart at the top of book reviews indicating the number of reviews awarded at each star rating of one to five.
Let's hope that Amazon remembers that its customer reviews are one of the most popular features on its site, if not the entire Web. Those reviews help sell a ton of books every day of the year. If Amazon reduces their visibility to the average shopper, it seems obvious that sales would suffer.
------------------
If you like my articles, click the orange button to subscribe:
Steve Weber is author of Plug Your Book! Online Book Marketing for Authors